Hoop House Update – December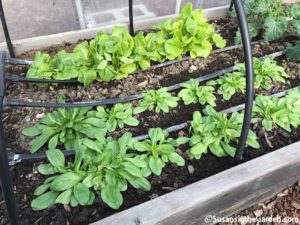 As a lot of you know, I grow vegetables in my little unheated hoop house every fall and winter. I've been doing this for 4 years and have been fairly successful, considering the fact that my garden is in USDA zone 5!
I started out very simply, by putting hoops over a raised bed and covering it first with a sheet of floating row cover for the fall. Then, when the temperatures really started dropping, I added a sheet of clear plastic to trap more of the heat underneath.
Three years ago, my husband and I built a hoop house that is 10 feet wide by 9 feet long and covers 2 of our raised beds plus the pathway in between. Even though the hoop house isn't heated, it's amazing how well plants grow in it. But there is a big reason for that!
When I first started out, I didn't know what I was doing and just grew some cool-season vegetables: carrots, lettuce and spinach. It didn't take me long to learn that you really need to select very cold-tolerant veggies in order to be successful.
The crops I've had the best luck with are corn salad (mache), claytonia (miner's lettuce) and 'Vates' kale, which performs really well in cold-weather trials. This year, I'm also growing 3 kinds of lettuce that I had started indoors and 'Matador' spinach, which is supposed to be cold-tolerant.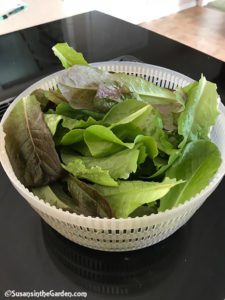 The lettuce is growing really well so far, although if the temperatures drop a lot more (we've been averaging 22 degrees at night lately), I fully expect that it will succumb to the weather. But so far, they're doing beautifully. I'm using the cut-and-come-again method to harvest them (cutting off leaves rather than picking the whole plant). Once the lettuce are done growing, I'll switch to growing microgreens indoors so we continue to have a nice supply of salad greens.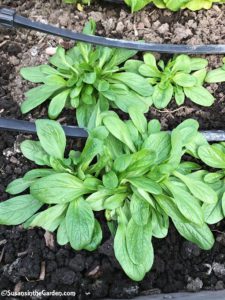 This is what corn salad looks like, and let me tell you, it doesn't get fazed by cold weather in the least. Unfortunately, you don't get to use the same method for harvesting, but rather, you pick the whole plant. Corn salad is a very tasty green and is awesome in salads.
I've also grown minutina, which grows in clumps and can be harvested a leaf at a time. I'm not growing it this year and have to admit that I'm not as fond of growing it as the others I've mentioned above.
In the summer, we use the hoop house to grow some warm-season crops such as tomatoes, cucumbers, peppers, melons and eggplant. There's no point in having the hoop house sit empty, right? So far, I've been most impressed with how peppers and melons grow in it.
Once a year, we pick up and move the hoop house to cover another 2 beds as part of our crop-rotation program. It is relatively lightweight and easy to relocate.
If you'd like to learn more about what we grow in the hoop house, this link takes you to all posts about it. There's also a blog category for winter garden that will provide you with information. And, as always, if you have questions, don't hesitate to drop me a note at Susan@SusansintheGarden.com.