Sept. 17 Column: How to Grow Microgreens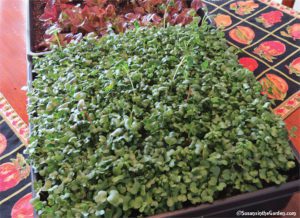 I've been looking forward to writing today's column because it's all about how to grow microgreens. If you haven't heard of them — or you've heard the term but didn't know what they're all about — my column will hopefully get you excited about embarking on a new phase of gardening! Here's a link to it: Microgreens keep harvests going during winter.
The way microgreens work is you plant seeds very thickly in a seedling flat or other container and harvest the resulting seedlings when they just have a true (mature) leaf or two. Would you believe microgreens have — depending on which type of seeds you grow — anywhere from 4 to 40 TIMES the nutrients of their mature counterparts?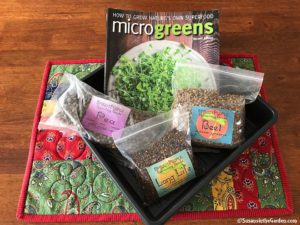 I grew microgreens for the first time last winter and didn't have to buy any salad greens at all. In addition to being easy to grow them, it was great fun trying something new. We primarily used our microgreens for salads and enjoyed adding roasted beets, feta cheese and roasted nuts to them. You can also add them to other types of dishes.
This week's "Everyone Can Grow A Garden!" video will also help you learn how to grow microgreens. In it, I go through the process step-by-step. So even if you didn't have the opportunity to grow an actual vegetable garden, use this opportunity to start growing food indoors that you can enjoy while the snow is flying outside!
Last year, I reviewed a useful book by Fionna Hill, Microgreens: How to Grow Nature's Super Food. You might want to read the review, especially if you feel like you're looking for extra guidance.
If you have any questions, don't hesitate to drop me a note at Susan@SusansintheGarden.com. And if you do decide to grow microgreens, I'd love to hear from you as well!