Organic Pest Control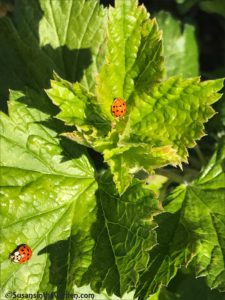 Got bugs? I'd like to help you determine whether they are bad bugs, beneficial insects, or benign ones that don't adversely affect our plants. But before we jump in, let me give you some background on which zone I'm in and what I grow here:
I live on 5 acres in Eastern Washington state. This region is technically in USDA zone 6 — according to their map, that is! — but most of us are in zone 5, with some outlying areas being in zone 4. Like all areas, our climate varies over time.
I primarily grow edible crops: vegetables, tree fruits and berries. But I also grow a LOT of ornamentals — shrubs, perennials, annuals, bulbs and a several trees here and there. I have a lot of native shrubs as well.
Because I live in the Inland Northwest, I should clarify that we don't get things like fire ants or Japanese beetles (halleluia!). So this guide won't address those issues. I hope you'll understand. But there are so many insects we all see — aphids, slugs, tomato hornworms and so on — and those are the types I'll be covering here.
This guide is a work in progress. You can count on me to continually expand on it. If you have a suggestion for it, drop me a note at Susan@SusansintheGarden.com.
Here is what you'll find in this guide:
Organic Pest Control Products and Methods