Book review: Microgreens

Microgreens: How to Grow Nature's Own Superfood by Fionna Hill
(Firefly Books, 120 pp., $19.99)
By Susan Mulvihill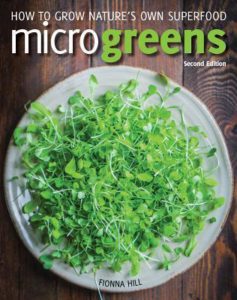 As an avid vegetable gardener in a Northern climate, I'm blessed with tasty veggies to eat for several months each year. Come fall, however, growing crops outdoors is not much of an option. Although, if you've been following me, you know I've been growing some cold-tolerant greens in a hoop house for the past three winters.
However, I realize not everyone has a hoop house or greenhouse at their disposal. What's more, many folks live in apartments or where no garden space available, no matter what region of the country they're in.
What's the solution? Growing microgreens indoors, or in containers outdoors. Simply put, microgreens are small plants you grow in soil from seed until they have two true leaves, at which point you harvest and eat them. They are extremely healthful. (They vary from sprouts, which are started in the dark in moist conditions, which makes harmful bacteria a potential problem.)
I first learned about microgreens from a gentleman I interviewed a few years ago. Since I don't know anyone else who grows them — and since I think we all should be growing them — it seems like a microgreen "manual" is in order. And I've found one.
In Microgreens: How to Grow Nature's Own Superfood, author Fionna Hill refers to them as "houseplants you can eat." Early in the book, she makes an easy case for growing them:
"Microgreens will add punchy splashes of color, texture and many flavours to dishes ranging from spicy and hot to mild and subtle. Pea shoots taste just like freshly picked garden peas. And radish leaves taste like radish flesh. Some are grown for their attractive appearance, texture and colour, while others are sought are for their flavour and aroma. Some provide both. They're immediate and practical. Most are ready in a week or so and you can grow them in winter."
She introduces us to 35 different types of microgreens and takes us through the steps of growing them: types of seeds to use (avoid treated seeds), containers that work well (shallow with good drainage), type of soil needed, how to plant the seeds, covering them, watering and light feedings, growing locations, care for the plants after germination, and when and how to harvest them. Hill also emphasizes that microgreens are not just for growing during the winter months, by the way. For example, she lives in an apartment in New Zealand so she grows hers year-round in containers on her deck.
After these important basic steps to learn, the following chapter discusses problems that can arise and how to deal with them. Fortunately, they tend to be pretty straightforward things such as seeds that don't germinate, where Hill suggests possible reasons for this.
The nutrition chapter discusses some specific — or potential — health benefits from eating certain types of microgreens.  Chapter 5 is an important and useful one because she covers the specifics of 35 different microgreens in detail, often relating her personal experience with them.
She also suggests ways to get kids involved in growing microgreens, which I think is terrific. There's a chapter filled with recipes for using microgreens as well. The author prefers them freshly-cut in salads, wraps, sandwiches or egg dishes, but provides many creative recipe ideas, too.
Hill wraps it all up with a resource section containing seed sources and growing information, books about microgreens, a glossary of terms, and weights and measures.
Microgreens is a very straightforward book that tells the reader what they need to know to grow them successfully and provides plenty of inspiration to try new things so we can enhance our diets and wellbeing.