2015/16 Winter Garden Project: Final Update

Now that we're into the month of March, this seems like the perfect time to do a wrap-up on growing vegetables through the winter.
This was my 3rd winter of attempting to grow salad greens through our chilly zone 4b/5a winters and I'm happy to report it was my best ever! Hooray!
As a quick recap, my husband and I built a 10′ by 9′ hoop house, which is a greenhouse covered with plastic. I am not using any electricity to heat it, so have only relied on the winter sun's warmth (which isn't much) and some floating row covers placed over the two raised beds that the hoop house fits over. (note: at the bottom of this post, I'll put links to other posts and videos on this topic)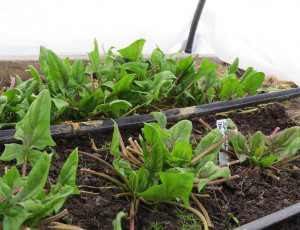 Last fall, I planted 5 cold-tolerant veggies: 'Bordeaux' spinach (pictured left), 'Vates' kale, Minutina, Mache (corn salad) and Claytonia (miner's lettuce). I started the Minutina and kale indoors in late July; the others were direct-sown into the beds a couple of weeks later. The seeds came from Johnny's Selected Seeds and High Mowing Organic Seeds.
In my first year of doing this, the 'Bordeaux' spinach only made it to December — which isn't bad considering it's not super cold-tolerant. This time around? We're still picking it and it's doing great! I heartily recommend this variety as it's tasty and has beautiful burgundy-colored stems which look awesome in a salad.
The 'Vates' kale has also grown beautifully. The leaves are quite curly and the plants aren't super tall (maybe about 14″ tall) so it was easy to cover them with floating row cover for a little added warmth.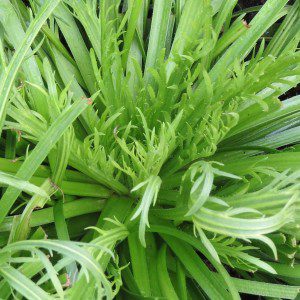 The Minutina (left) — which I'm guessing few folks are familiar with — kind of looks like a rosette of wide-bladed grass. It isn't overly fibrous, though, and is quite tasty in a salad when cut into 1- to 2-inch lengths. While Minutina is supposed to be very cold-tolerant, I noticed that it started looking pretty sad following a cold spell in January. It's only now recovering from it, so I was a little underwhelmed with its performance.
In addition, I planted quite a lot of it and discovered it was way more than we could eat! So if I plant it again this fall, I'll grow a smaller amount.
I've grown Mache (or corn salad) before and really like it. Nothing phased it this winter. You pick the entire plant, rather than just a few leaves at a time. Because of that, I think I should grow more of it next winter. It's very tasty, though.
Last but not least — and probably our favorite — is the Claytonia. The leaves are a bit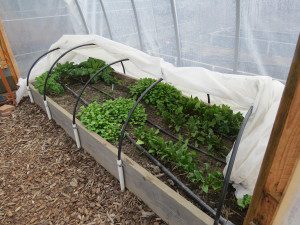 succulent and have a really fresh taste. They were fantastic in salads and the plants are still going strong.
So there you have it: the winter of 2015/16 was a roaring success. And of course, that means I'll definitely do this again next winter! The photo to the right was taken on Feb. 27, so you can see the plants are doing great.
If you have any questions, please don't hesitate to drop me a note at Susan@susansinthegarden.com.
More information on this topic (including videos):