Product Review: Rescue Fly Traps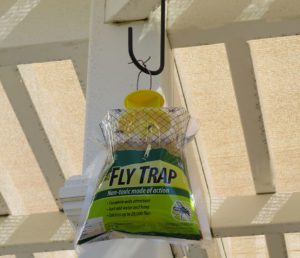 Don't let flies prevent you from enjoying your porch, patio or deck this summer. There is no need to spray poisonous chemicals to control them, however. Our neighbor boards horses and we keep chickens — between these two sources, there is a potential for a lot of flies. We have been using the Rescue Fly Traps since 1993 with great success. Their early reusable fly traps were somewhat messy to use, but my husband Bill kept them in service all summer long.
A few years ago, Rescue! introduced a disposable fly trap that is much simpler to use.
The attractant has a mild smell of fermenting yeast for the first week and starts trapping flies immediately. After a week, the smell gets stronger — possibly because of all of the dead flies — which makes the trap is even more effective.
We hang the traps on metal plant-hanger hooks to make them easy to move around. The smell is not detectable from a short distance and dissipates quickly when the trap is moved. If you're planning to have dinner on the deck, just move the trap off to the side and it won't be noticeable.
We hang new traps on the deck or front porch and move them to the chicken yard when they get the stronger smell.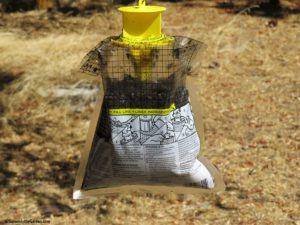 In hot weather, we add water occasionally to keep the level up. Once the trap is full of about a quart of dead flies, we put it in a plastic bag that can be tied shut and it goes out with the trash.
Do not let the attractant spill in your trash can, by the way. Bill had to wash our trash can once because the attractant leaked and it was bringing flies into the garage. Not exactly what we had in mind!
We keep a few fly swatters on hand for the occasionally bothersome flies but have not purchased a can of fly spray in decades.
Now, in the interests of full disclosure, I have received some products from Rescue in past years for the purpose of testing them. But I have not received any fly trap samples from them or been asked to write a review of them. This review is purely based on our personal experience. We've tried other types of fly traps but the disposable Rescue fly traps are by far the most effective and easiest to use.
(Note: The photo at the very top of the post is courtesy of Rescue)