June 18 Column: Rose Show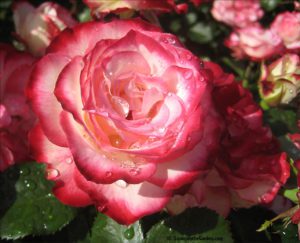 I am certain the most beloved of all garden flowers is the rose. And that's not surprising, considering how beautiful and fragrant they are. Roses will be in the spotlight on Saturday (June 24) because the Spokane Rose Society will be putting on their 70th (!) rose show.
It will be held at Northland Rosarium from noon to 4 p.m. All of the details are in my column today. Here's a link to it in The Spokesman-Review: Learn about roses at Spokane Rose Society's annual show.
For this week's "Everyone Can Grow A Garden" video, I did a quick interview of Carol Newcomb, owner of Northland Rosarium, and then topped it off with a video of some gorgeous roses that will be available for purchase. It's just the tip of the iceberg, though, as there are so many other wonderful roses there. And you'll get to stroll through the beautiful display garden as well.
Here's the video and hope to see you at the rose show!