June 11 Column: Spokane in Bloom Garden Tour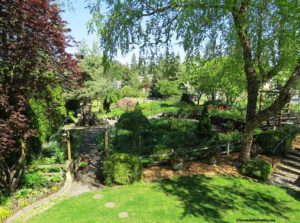 Who loves going on garden tours? After all, they are a great opportunity to stroll through some of the area's finest gardens, right? The Spokane in Bloom Garden Tour is next Saturday, June 17th, and features 7 gardens on Spokane's north side.
That's the subject of my garden column today and here is a link to it: Annual Spokane in Bloom tour features North Side gardens.
I had the pleasure of visiting Janie and Jim Edwards' home near Whitworth University. Their garden is truly a delight, and if you go on the tour, be sure to check out the overview of it from their back deck. It's stunning!
I have included a few photos from their garden at the bottom of this post so have a look. Remember that you can click on any of the photos to view a larger image.
The tour, which is sponsored by the hardworking Inland Empire Gardeners, will be held from 10 a.m. to 5 p.m. Each garden will host vendors and musicians. Tickets can be purchased for $10 at most gardens the day of the tour, or ahead of time on The Inland Empire Gardeners' website at tieg.org, or at the following Spokane nurseries:
Blue Moon Garden & Nursery, 1732 S. Inland Empire Way
Gibson's Nursery, 1401 S. Pines Rd
Judy's Enchanted Garden, 2628 W. Northwest Blvd.
Northwest Seed & Pet, 7302 N. Division St. and 2422 E. Sprague Ave.
Tower Perennial Gardens, 4010 E. Jamieson Rd.
And now, here is this week's "Everyone Can Grow A Garden" video: