Northwest Flower and Garden Show: Report #3

In this, my final report from the Northwest Flower and Garden Show, I share with you several sights that caught my eye:
First, one of my favorite vendor booths to visit is Christianson's Nursery. They always have a beautifully-designed booth and lots of darling containers and goodies that you MUST take home with you! (remember that you can click on any photo to view a larger image)
Next, I wanted to show you this display of frames and planted frames you can use for small-scale vertical gardening. How cool are these!?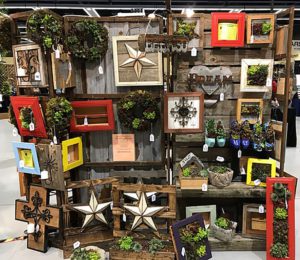 And last but not least, how do you like these gorgeous, carved herons? I've included a long-distance shot so you can also be impressed by this massive outdoor dining table. Wow. This was the scene in one of the display gardens.