Northwest Flower and Garden Show: report #1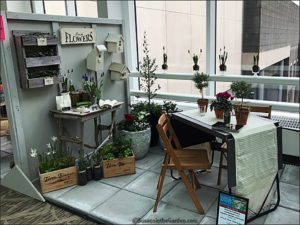 I've just returned from the Northwest Flower and Garden Show in Seattle, which is an annual event that I always look forward to. Today is the first of a few reports on what I saw there.
The show is held in the Washington Convention Center and is a little bit of heaven for gardeners who are just aching to get out in their gardens! That would definitely include me this year, what with all of the snow we've been getting (and continue to get, I might add).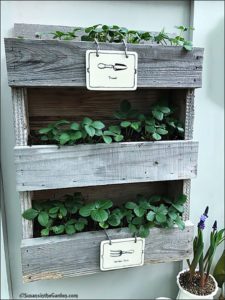 Each year, I'm always drawn to the "City Living" area in the Skybridge because it is packed with great ideas for folks who live in apartments or condos… or anyone looking for inspiration for green zones to extend their living areas.
This year was no exception. As you can see by the photos, several delightful sitting areas had been created. Each had beautifully-planted containers and plenty of new ideas for creating their own serene getaway. And they didn't require much space at all, yet I'd enjoy sitting in any of those spaces!
Remember that you can view a much larger image by clicking on any of the photos. Enjoy!
I enjoyed the pot below, which was planted with rosemary, purple sage and several blooming Fritillary bulbs. And how about the lovely combination of yellow and blue in the photo to the right?
This next space (below) caught my eye because I love the idea of attracting pollinators and beneficial insects to any garden space. Aren't these insect hotels cool?