Cabin Fever Gardening Symposium

There's an annual event coming up that I've consistently described in past years as being "the most fun a gardener can have in a day!" And it still holds true. The Cabin Fever Gardening Symposium will be on Saturday, March 11 from 7:30 a.m. to 4 p.m.
This event is sponsored by the Master Gardener Foundation of Spokane County and features classes on a wide variety of gardening topics (see below), a continental breakfast, box lunch, door prizes and more.
You get to choose 4 classes from a selection of 12. Here are the options… and I'm sure you'll agree they're awesome!
Morning Session I
A Tour Down the Worm Hole: Understanding Soil Biology
Zen Lessons for the Garden
Pruning Class
Morning Session II
Creating a Sensory Garden
Roots: Seeing the Invisible
Permaculture
Afternoon Session III
Healing Gardens: Session 1
Attracting Birds to Your Garden (this is the class I'm teaching)
Compost Tea
Afternoon Session IV
Healing Gardens: Session 2
Rain Barrels
Spring Mushrooms in Our Yards
As you can see, it will be difficult to narrow down your choices! Check out the online brochure for detailed descriptions of each class.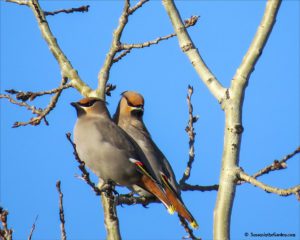 I'll be teaching the class on a topic that is near and dear to my heart: "Attracting Birds to Your Garden." I'm really excited about this and have a lot of information to share with you. In addition to being delightful to watch, many birds are insectivores so they really do us a favor in our gardens.
Tickets for the Cabin Fever Gardening Symposium have just gone on sale and they go quickly, so you'll want to check your calendar and get them early! Tickets for the full day cost $75 per person. You can order them through Brown Paper Tickets or call (800) 838-3006 to speak to a real person!
I do hope you can go to this fun, educational event. Every year, I'm always delighted to see the happy, enthusiastic faces of gardeners who just can't wait for the season to start!