June 14 column: Spokane in Bloom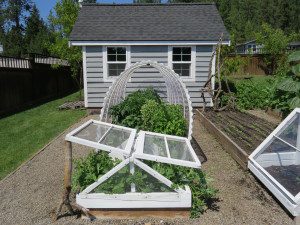 Here is a link to my column in today's edition of The Spokesman-Review: 'A living canvas'. It is a preview of next Saturday's (June 20) Spokane in Bloom garden tour.
This year's tour, which is put on by the hardworking members of the Inland Empire Gardeners, features six outstanding south-side gardens.
I had the pleasure of visiting Tom and Peggy Best's garden and it was wonderful! You won't want to miss the Spokane in Bloom tour because you'll come home with all sorts of great ideas for your own landscape. All of the photos you see were taken in their garden on a stormy evening recently! You are sure to get plenty of design ideas from the Bests' garden, as well as the other five gardens on the tour.
I should also mention there will be a barbecue lunch available in the Bests' garden for an additional cost. There will be music and garden-related vendors at each stop along the way. What a fun way to spend the day before summer officially starts!
The tour will run from 10 a.m. to 5 p.m.
Tickets can be purchased for $10 at most gardens the day of the Spokane in Bloom tour, or ahead of time on The Inland Empire Gardeners' website at tieg.org or at the following Spokane nurseries:
·         Blue Moon Garden & Nursery, 1732 S. Inland Empire Way
·         Gibson's Nursery, 1401 S. Pines Rd
·         Green Thumb Nursery, 16816 E. Sprague Ave.
·         Judy's Enchanted Garden, 2628 W. Northwest Blvd.
·         Northwest Seed & Pet, 7302 N. Division St. and 2422 E. Sprague Ave.
·         Ritter's Florist & Nursery, 10120 N. Division St.
·         Tower Perennial Gardens, 4010 E. Jamieson Rd.
The gardens on the tour are located at the following addresses:
2717 E. 40th Ave.
523 W. 18th Ave.
1028 E. 33rd Ave.
1216 E. 54th Ave.
3620 E. 35th Ave.
1110 S. Denny Ct.
For more information, go to www.tieg.org.