Apr. 30 Column: Container gardening

This week's column and video is about a very enjoyable subject: container gardening. In my column, I detail the methods for growing flowers and/or vegetables in pots. Here's a link to it in today's edition of The Spokesman-Review: After choosing the right container, think thriller, filler, spillers.
I included suggestions of plants to grow just to give you some ideas. But to really prepare for my video, I went plant shopping! (hey, it's a dirty job, but someone's got to do it, right?)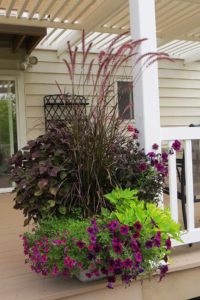 Each year, I plant two large deck pots with interesting combinations of annuals, along with two hanging baskets and two "picket fence planters" on our front porch. This year, I'm adding at least two more pots because there are just so many wonderful plants to grow!
My focus is to plant a lot of things that will attract hummingbirds and butterflies.
For my video, I created a slideshow from the photos I took recently at Liberty Park Florist & Greenhouse, located on Spokane's lower South Hill at 1401 E. Newark Ave. Their phone number is (509) 534-9381. Thanks, folks, for letting me wander around taking photos of all of the beautiful plants you've grown!
Here is this week's video:
Two more things:
If you don't have much (or any) space for a vegetable garden, you can grow veggies in containers. I wrote a column about this a while back: Space-saving containers allow for plenty of garden variety. For it, I interviewed Spokane County Master Gardener Marilyn Lloyd and she shared many tips and insights about growing vegetables in pots. I hope this will help you out as you get under way.
Remember that if you live in the Inland Northwest (or other regions that are in USDA zones 5-6), our last frost date is usually in mid-May. So don't get too carried away and plant your containers too early! And be sure to keep a close eye on the weather forecasts!