Easy Tomato Supports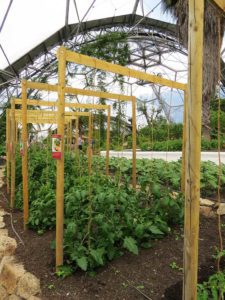 This is going to be a short post but I definitely wanted to share this with you. I've seen a lot of different tomato supports over the years but this one caught my eye during a recent trip to England.
We had the opportunity to visit the Eden Project in Cornwall. I plan to write a blog post on it soon but, for the time being, check out how they were growing their tomatoes in the Mediterranean biome.
As you can see, there is a wooden support that goes up and over the plants and a single line of sturdy jute twine hanging down to each plant. The end of the twine initially just rests on the soil surface.
As a plant grows, the gardener wraps the plant around the twine and you would be amazed at how strong a support it becomes. I think this method would work really well for indeterminate tomatoes (the ones that grow really tall) because this type of support would be much taller than a tomato cage.
Pretty slick, huh? (remember that you can click on any photo to view a much larger image)