May 14 Column: Postage Stamp Garden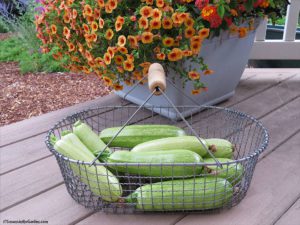 My garden column this week is all about growing a postage stamp garden. What? You've never heard of one before? Well, I'm talking about a very small — but productive — vegetable garden that just about everyone should have room for and time to tend. Here's a link to my column in today's edition of The Spokesman-Review: Even a small spot can yield big and tasty results.
When our house was being built many years ago, it was during gardening season and I just hated the thought of not being able to grow some veggies that year. We had sold our old house and were renting a house for the summer. Our landlady said I was welcome to plant a small garden, so I set about growing a tiny one that had zucchini, tomatoes, bush beans and onions. I was astounded at the amount of produce we pulled out of that little garden!
And ever since then, that's what I call a "postage stamp garden" — one that's tiny but provides lots of tasty, healthy vegetables. We moved into our current house in the month of August, and as exciting as that was, we both hated to leave our little garden behind! I'm sure the next tenants were thrilled to have veggies to pick and eat… at least, I'm hoping they were.
This week's video is all about growing a postage stamp garden and I've included the steps it takes to be successful, especially if you've never gardened before. My goal is to get EVERYONE to plant a veggie garden, no matter how tiny it is! So please drop me a note to let me know if you're going to grow one (Susan@susansinthegarden.com). And if you have any questions about it, don't hesitate to contact me.
Enjoy the video: