March 12 column: Seed-starting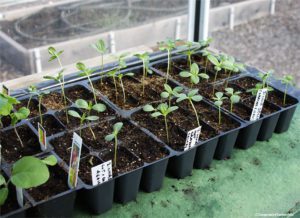 My column in today's edition of The Spokesman-Review is all about seed-starting, which is one of my favorite aspects of gardening. Here's a link to it: Seed-starting basics.
For the past 3 weeks, I've been laying the foundation for growing a garden. There are a lot of important things to know such as choosing a good site for your garden, knowing your hardiness zone and how to select plants and seeds. But today, I finally get to cover the hands-on information you need to know for starting your garden. And that's very exciting!
Being able to start your own plants from seed is one of the best gardening skills you can learn. For one thing, it's very economical once you purchase a few basic pieces of equipment. For another, it gives you the ability to grow plant varieties that are hard to find in nurseries and garden centers.
I've also shot a video to go along with today's column. In it, I show you 3 of my favorite seed-starting systems and include a quick slideshow that goes through the seed-starting steps, just to reinforce them in your mind. Have a look:
If you're wondering which seeds I've planted indoors so far, they include leeks, peppers, artichokes and several annual flowers (zinnias, cosmos, celosia, larkspur and Gloriosa daises). I can't wait for everything to germinate and get growing!
You might also recall that I'm conducting an experiment with growing onions from seeds. You can find out more about that in my blog post, A New Twist on Planting Onions.
I'm currently waiting for a seed-starting kit to arrive in the mail, which will be planted with several different tomato cultivars. Here's a direct link to my planting schedule for this year, in case you're wondering about the timing of everything. After this crazy winter, I sure hope our normal routines can be followed!