'Big Zac' tomato report

Way back in May, I reported on my Facebook page how I'd succumbed to temptation and purchased a 'Big Zac' tomato plant while working at the Master Gardener plant sale. Even though I already had plenty of tomato plants started from seed, I just couldn't resist.
What's so special about 'Big Zac'? Well, when I read that it's supposed to produce tomatoes weighing between 4 and 6 pounds (that's not a typo, folks!), I just had to know if that's true.
It turns out several of my Master Gardener colleagues were wondering the same thing because each of them took one home as well. We jokingly formed the "Big Zac Club" and vowed to keep each other posted on how our plants performed.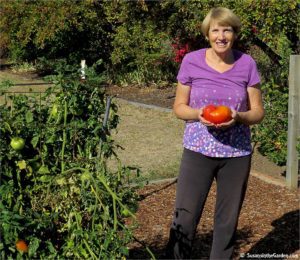 In a nutshell, the plants produced well but none of us ended up with tomatoes anywhere near 4 to 6 pounds. Darn. But I also should mention that we had an odd summer, filled with wild temperature extremes, which I'm certain threw the plants for a loop. In addition, we all live in the Spokane, Wash. area, with a short (120-day) growing season. Perhaps 'Big Zac' produces the whoppers if grown over a longer period of time.
Since I'm most familiar with how my 'Big Zac' plant grew, I'll report on it first, then I'll share some comments from my fellow Big Zac Club members.
I grew mine at the end of my paste tomato patch, where I use sheets of 4'x8′ concrete-reinforcing wire for support. As the plant grew, I started to worry that wouldn't be strong enough!
The plant grew to about 6 feet tall and was laden with huge green tomatoes for the longest time. Last month, I picked and weighed the largest one that had ripened and it came in at just under 2 pounds.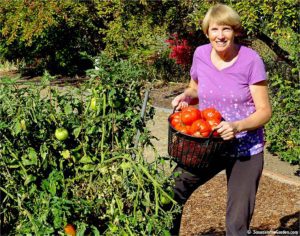 I harvested the rest of the tomatoes a few days ago since our temperatures are rapidly dropping. I was impressed with the result: a total of 22 pounds of ripe tomatoes (see photo at right)! Not bad. I also picked about 5 pounds of green ones, which I'll ripen in our basement. The largest of the ripe tomatoes weighed in at 2 pounds, 3 ounces (that's what I'm holding in the photo above). Still impressive for this region of the country, but again, nowhere near the size I was hoping for. The tomatoes are nice and meaty, with a good flavor, by the way.
Here are comments from the others when I asked for an update in early August:
CL – "Mine is planted in a mixed vegetable/flower bed. In addition to kale, strawberries, herb and peppers, there are two other tomato plants nearby. All are in cages or on support. I planted them with organic fertilizer and they are well mulched with wood chips. Big Zac grew quickly after planting to about 2 feet. Then, nothing for probably 6 weeks. Once it got warmer, it put on a growth spurt and is now 4 1/2-5 feet tall. There are blossoms, but no fruit. I tried Pat Munts' suggestion to vibrate the blossoms with an old toothbrush last weekend, but still no fruit. All of my other tomatoes are fruiting, but I have yet to have anything ripen."
CW – "Well, my Big Zac is right in there with most of my other tomato plants…not really happy this year. He stands about three feet tall in his jumbo square tomato cage, kind of spindly, lots of blossoms, not much fruit. He's gotten his water, compost and yummy organic fertilizer. I don't have any issues with insects or disease… just not happy, growing or producing well, like most of the others… there are three tomatoes, smaller than my thumbnail."
AK – "My Big Zac is a bit on the small side. I planted mine in my herb garden but gave it its own water supply.  I have caged the Big Zac with an industrial tomato cage that stands 2.5 ft. high. The plant has yet to make it to the third rung (about 2/3 of the cage). Several blooms are on right now, but no fruit yet."
KW – "It's planted in my paste tomato bed and probably doesn't have quite as much room as it should, but that's because the Big Zac purchase was a spur of the moment thing! It's growing on a vertical concrete-reinforcing wire grid. The plant is very robust and doing well. I've got about a half-dozen large beefsteak-size (green) tomatoes on it, and many smaller ones. Nothing the size of, say, a volleyball or anything, ha ha."
LR – "My Big Zac is doing well in his square, large tomato cage, which is in a raised bed.  He is about 4 feet tall and is bearing fruit. We've given him tomato fertilizer and water via a drip system. My husband had to secure the tomato cages with 2×4's on the outside as all of the tomato plants sharing the raised bed, have a lot of tomatoes on them. Zac has about 10. There is one red one, which is ready to pick."
And here are their comments during a mid-September update:
CL – "Lots of green tomatoes, "hoping they will ripen before a frost."
CW – "This has been a dismal year for all of my tomato plants, except for my tumbler. Big Zac is sporting four fruits, three the size of a tennis ball, and one the size of a grapefruit. All green. Will have to do the root-pruning this weekend as they are still as green as green can be."
AK – "I have one… that's right… one tomato.  My Big Zac is the runt of the litter!  Still green, but water cut off last week so we will see if it ripens.  I am hoping for at least a taste!"
KW – "He now has grown to 6ft X 4ft. He is a whopper in size, lots of green tomatoes none the size as reported, perhaps I have over half in the 1-1/2 lb size and smaller, I have picked two ripe ones and one today but not large. He is in a raised bed and planted late as I found him in the plant clinic after the sale. This plant has dwarfed all other tomatoes in my garden, it is on a mister at the base, had vegetable fertilizer in the beginning and never covered, basically ignored! Probably wouldn't bring him home again because of space."
_____
So there you have it, folks! Our unscientific experiment did not yield 4 to 6 pound tomatoes although certainly some respectably-sized fruits for this region of the country. I believe our short growing season and unusual weather patterns this summer kept the plants from developing larger fruits. I hope you found this interesting!