Paste tomatoes: A comparison

Every year, I grow one or two varieties of paste tomatoes for making sauce, ketchup and salsa. Why paste tomatoes? They typically are meatier types that cook down fairly quickly because they don't have as much juice as a regular slicing tomato.
For the last several years, 'Italian Pompeii' (center of top photo) has been my go-to paste tomato. They are much larger than 'San Marzano' and have that meaty texture I'm looking for.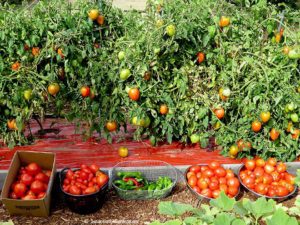 Last year, I learned about an heirloom variety called 'Amish Paste – Kapuler' and was anxious to give it a try. It was touted for having large fruits that ripen well in relatively short-seasoned climates. Sounded good to me!
This variety is a type of 'Amish Paste' tomato that has been selected over many years by Alan Kapuler for traits such as fruit size and the ability to thrive in areas with cooler and/or shorter summers.
Both last year and this year, I found the claims about fruit size were true: the tomatoes are enormous! They are also very productive. (most of the tomatoes in the photo at left are 'Amish Paste – Kapuler')
But there was one more thing I hadn't banked on: it appears to be very resistant to blossom-end rot. Last summer was exceptionally hot and dry. I'd say at least 80 percent of the 'Italian Pompeii' tomatoes were affected by it, which greatly decreased a crop I had been planning to use for most of my canning projects. By comparison, there were maybe 5 'Amish Paste – Kapuler' tomatoes with blossom-end rot.
This year, the weather started out pretty warm again but then fluctuated between cold and hot temperatures for the remainder of the season. Fortunately, much fewer 'Italian Pompeiis' got blossom-end rot (maybe 30 percent), but once again, there wasn't a single 'Amish Paste – Kapuler' affected by it.
Unfortunately, there is one downside to the latter: it's juicier than the 'Italian Pompeii' so it does take longer to cook down for use as a sauce or ketchup. That makes it tough for me to decide which one would be considered better than the other!
However, the decreased production of 'Italian Pompeii' due to blossom-end rot is more of a showstopper for me. Next year, 'Amish Paste – Kapuler' will be the only paste tomato I grow.
If you're wondering where I found the seeds for it, I bought them from Carol Deppe, who owns Fertile Valley Seeds.
Also, I intend to put together a "report card" on the various vegetable crops and cultivars I grew this year, so stay tuned for that.