Planting pole beans

I just planted my pole beans. It's exciting to see them in the garden because, to me, that really means the season is underway. Planting pole beans is pretty easy, provided you have a sturdy trellis for it.
If you haven't seen how I grow mine, I'm hoping this photo will give you some inspiration! Several years ago, I got the idea to grow my pole beans over a path in my garden, partly to save space, partly so I'd be in the shade while picking them, and partly because I thought it'd look really cool!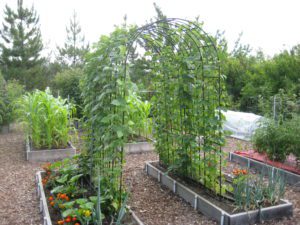 What you're looking at are 4 arbors that I purchased at the Fred Meyer store. They span a pathway between 2 of my raised beds and the beans just love to climb them. (remember that you can click on the photo to see an enlarged view)
Some folks have used a cattle panel (they are 4′ tall and 16′ long) as an arch between 2 beds in their garden, and that works well, too. The great thing about cattle panels and these powder-coated steel arbors is that they should last a very long time.
OK, back to my discussion about planting these beans. Last spring, I made a video on the process and some important considerations. Take a look:
I hope the video will answer any questions you may have. One of the most important steps once you've planted all of your seedlings (or seeds) is to water them in well. And then, stand back!
I'll post some photos of the pole beans throughout the season so you can see how their doing. If you have any questions, just drop me a note at Susan@SusansintheGarden.com.