Apr. 24 column: Growing melons

If it's Sunday, that means it's time for my next garden column. This one is all about growing melons. What? You think it's impossible to grow them in this region? Well, I'm here to tell you that I've been doing it for years and it's easy-peasy.
I have to admit I've given up on growing watermelons. The large ones do need a really long season to develop and ripen, and the short-season varieties (such as 'Sugar Baby') are underwhelming, in my humble opinion.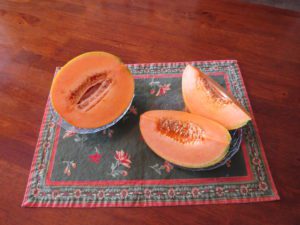 But I do love growing cantaloupes! My go-to variety for years was 'Alaska hybrid' and I certainly recommend it. However, last year, I grew 2 varieties that were outstanding: 'Tuscan Napoli' from Renee's Garden Seeds and 'Arava', a honeydew melon from Seeds of Change.
Both are short-season varieties and the flavor? Out of this world!
Now, I hope you've noticed that I've written this column early enough so you can grow your own melons this season! Here's a link to my column: Melons worth the extra effort. In it, you'll learn what I do to get them off to a great start so I can enjoy plenty of melons later on.
Let me know if you grow melons this year. Just drop me a note at Susan@susansinthegarden.com.