Peek into Susan's garden!

Dear gardening friends, I am so grateful to you for your support and enthusiasm. I thought you might like to take a peek into my garden so you can see where all of my post material comes from!
I live on five acres in Spokane County. My husband and I have lived here for nearly 26 years ago, which I can scarcely believe. This is a rural area where we frequently have to deal with "interesting" problems… mostly in the form of deer, moose, gophers, voles, porcupines, quail and so on. We live in USDA zone 4b/5a, so we have a short growing season.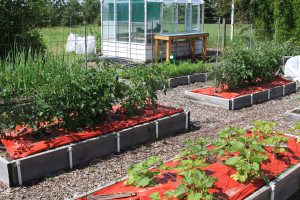 For the past several years, I have been using organic gardening methods, which is something I feel very strongly about. After all, the whole point of growing our own veggies and fruits is because we want to know how they were produced and know for certain that no chemicals were used.
I grow all of my vegetables and most of my annual flowers from seed. For this, I use an indoor grow-light set-up to get them off to a good start, then move them out into my small, unheated greenhouse as a staging area until it's warm enough to move them into the garden.
Here are some areas of our garden you might find interesting: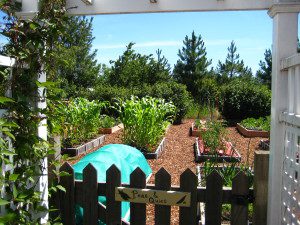 Raised Bed Garden. Way back in 1981, I began gardening in raised beds after reading an article about Peter Chan's beautiful garden near Portland, OR. We started out with 12 beds the first year, and liked them so much that we built several more the next year. Most are 3 feet wide by 8 feet long. There are also two 3-feet by 16-feet beds for raspberries and about 3 years ago, we built 3 more beds that are 4 feet wide by 16 feet long. That makes a grand total of 26 raised beds! Crazy, I know, but that gives you an idea of how wonderful they are.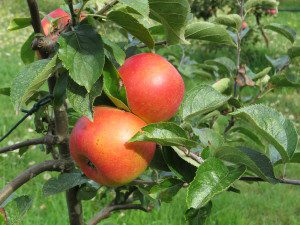 Orchard. We have a small orchard of apple, cherry, plum, pear and apricot trees. The apples and cherries grow the best, and the others tend to be quite dependent on the weather. I love canning and preserving our harvest so we always have homemade applesauce, jams and jellies on hand.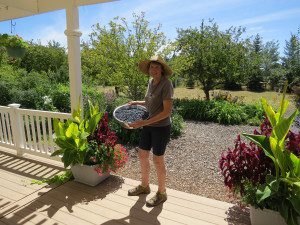 Small Fruits. We also grow about a dozen blueberry bushes, red raspberries, blackberries and strawberries. You just can't beat freshly-harvested berries in the summertime.
Deer Fencing. After trying different methods to keep the deer out of our vegetable garden and orchard, we finally gave in and built a simple deer fence that has worked extremely well. We already had a 4-foot-tall field fence surrounding those areas so my husband figured out a way to securely extend the fence by another 3 1/2 feet to make the fence 7 1/2 feet tall. So far, so good.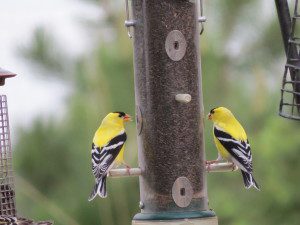 Bird Feeders and Houses Galore. Attracting birds to our garden has been one of our favorite pursuits. As you've seen many a time, I enjoy taking photographs when they pay us a visit. I just can't get enough of watching them and it's been fun adding new feeders and birdhouses to make them happy.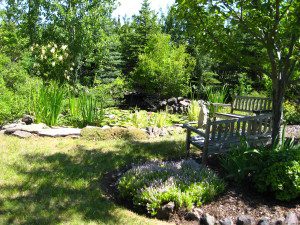 Water Garden. Many years ago, we built a lovely water garden that is about 13 feet wide by 17 feet long… in a kind of "oval" sense. It is home to about 3 dozen fish (including a few koi carp), water lilies and other aquatic plants. The waterfall is a big attractant to thirsty (and/or dusty) birds and we occasionally have a pair of Mallard ducks come for a quick visit and swim!
Native Plants. I love native plants since they are easy-care, draw in pollinators and beneficial insects, and are so beautiful. Throughout our landscape, you'll find serviceberries, ocean spray, ninebark, snowberries and so on.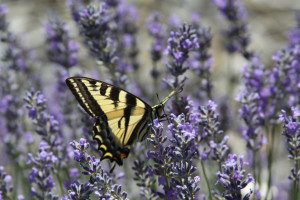 Lavender Patch. Quite a few years ago, we planted a few hundred 'Munstead' English lavender plants because we were looking for something that would be low-maintenance, drought-tolerant and deer-resistant. They add a lovely purplish hue to the landscape in June and July. We don't do anything in particular with them, mostly just enjoy the view. Birds love eating the seeds in late winter and of course the butterflies really love the flowers.
Perennial Beds.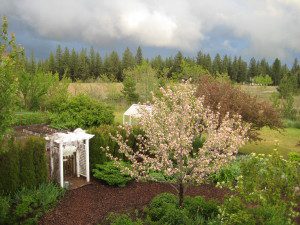 I'm a sucker for just about any flower on the planet! Our home is surrounded by beds of different configurations housing bulbs, annuals, perennials, native plants, etc. I love the cottage garden look, so most beds tend to be a riot of color and interesting textures.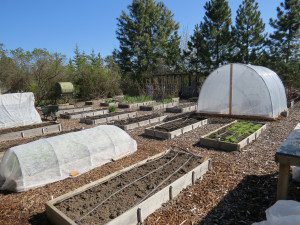 I shouldn't forget to mention my little hoop house, which is used for growing salad greens during our cold winter months. It is 9 feet by 10 feet, and covers 2 of my raised beds. I'm nearing the end of my 3rd winter of doing this and am totally hooked! As gardeners, don't we all love to fool Mother Nature?!
I hope you have enjoyed your virtual tour of our garden!