Book Review: Container Gardening Complete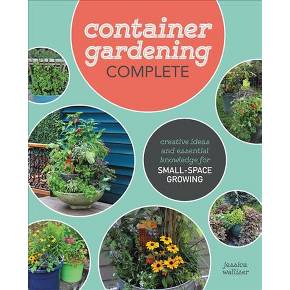 After reading Jessica Walliser's book, Attracting Beneficial Bugs to Your Garden, I've become a big fan of her work. She does a great job of tackling useful subjects, breaking them down into their most important components, and delivering this information in a very approachable way.
So I was excited to hear about her newest book, Container Gardening Complete (Cool Springs Press, 272 pp., $30). In it, she writes, "The best thing about container gardening is that anyone can do it. You don't need a lot of space, money, or time to grow a few containers filled with gorgeous plants."
She goes on to explain how this starts with careful planning. Walliser emphasizes the importance of selecting the proper container, potting mix, and the best spot to locate the container for maximum success.
After discussing how important it is to choose a pot that holds the right amount of soil, she includes a guide to the minimal pot sizes one should consider using for many types of plants. She also talks about the pros and cons of different types of pots, such as metal, terracotta and grow bags.
Throughout the book, Walliser inserts DIY projects for making useful and creative containers. This includes an attractive cedar planter box, hypertufa planter and a patio water garden. The many photographs are sure to inspire.
She also covers how to choose the right potting mix for your plants and how to make your own mix. She recommendations avoiding the use of synthetic chemical fertilizers as well.
While purchasing plants is truly the best part of growing in containers, Walliser suggests stepping back and putting some thought into the look or purpose you're aiming for first. She provides helpful tips on container design such as keeping the proportion of the plants in line with their container.
The bulk of the second chapter is devoted to charts of recommended annuals, perennials, bulbs, tropical plants, trees, shrubs, and edible plantings. For those interested in the last category, there are plenty of suggested vegetables, tree fruits and berries to get you started.
If you're looking for some "recipes" for well-designed pots, including specific plant recommendations and quantities, the author has thought of that as well.
Knowing when and how much to water containers — along with ways to make self-watering pots and irrigation systems — are included. The author discusses fertilizing and plant care — again, with a desire for the reader to be successful with container gardening.
If problems arise, Walliser guides you through the steps to troubleshoot them. She even covers harvesting one's produce from edible containers and using containers seasonally –especially for those living in an area with cold winters.
Container Gardening Complete is aptly named: it is a useful resource designed for all levels of gardeners who want to delve into gardening in pots, take their knowledge to the next level, or learn how to create stunning plant combinations that both thrive and please the eye.