How to Make a Holiday Wreath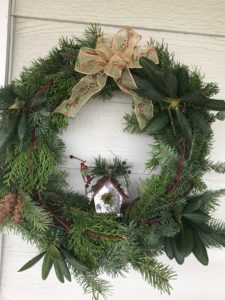 It's hard to believe we're nearing the middle of November already, isn't it? But that means it's time to start decorating for the holidays. And what better way to start than by making a holiday wreath using natural materials from your garden?
I have done this every year for a least a dozen years and it's one of the most fun — and easiest — projects you can do.
I even shot a video to help you out:
You can gather all sorts of materials from your landscape. I love to have a lot of different textures in my wreaths, so I usually include conifers (pine, spruce and fir), small branches with colorful bark (i.e., red-twig dogwood), some type of evergreen leaves, berries, pinecones… you name it. The possibilities are endless.
As I mentioned in the video, you will need the following supplies:
Wreath form
Needle-nose pliers, diagonals or sturdy scissors that are OK to use to cut thin wire
Floral wire
Gloves (in case the branches are sappy or have particularly prickly needles)
Decorative items to add as accents to the wreath
Ribbon (preferably the type with wired edges so you can make a nice-looking bow)
I hope you will consider making your own wreath. It's a fun project that saves you money, and is a great way to represent your garden over the holidays! If you make one, I'd love to hear from you and see your creation. It would be fun to put together a blog post, showing what folks have made. Just drop me an email at Susan@SusansintheGarden.com. And let me know if it's OK to mention your name (or just first name or initials) and perhaps even the area of the country you live in. That's a perfect way to inspire others to jump on the bandwagon.
Enjoy the holiday season!