Sept. 24 Column: Fall Clean-up for the Birds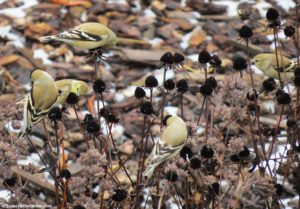 Do you enjoy seeing birds in your garden year-round? If so, there is something really important for you to keep in mind as you tackle your fall clean-up chores: save flower heads for the birds!
If you're like me, you probably really like having a very tidy yard going into the fall and winter seasons. But I learned something really important a couple of years ago: if I leave some seed heads behind, they will provide the birds in our garden with a nutritious food source, especially during our tough winters.
And that is the subject of my column in today's edition of The Spokesman-Review. Here's a link: Dead flowers can be a feast for the birds this winter.
In my column, I alluded to taking some video of goldfinches nibbling on seed heads. In this week's "Everyone Can Grow A Garden" video, I share the videos I took in 2015 and 2016. So here is the amazing thing: when I posted the 2015 video on my Facebook page, it went viral! I was stunned by just how many (over 2 million at last count) had enjoyed watching the goldfinches. The second video was also very popular, so I hope you will both enjoy the video and share it with your gardening and birdwatching friends.
The whole point of my column and video, though, is to get folks to remember to leave seed heads for the birds to nibble on this winter. It won't make your garden look tacky and you will have the added bonus of being entertained by the birds' antics as they balance on top of the seed heads and chow down!
Here's the video: