Aug. 13 Column: Kurt Madison Profile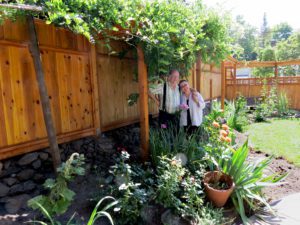 My husband and I have lived on a 5-acre property for 27 years now. Even though we'll want to downsize at some point, neither of us can picture ourselves on a tiny city lot! Well, Master Gardener colleague Kurt Madison and his wife Margot Casstevens have made the move from 10 acres to a city lot, and are adapting quite nicely.
That's the subject of my garden column today. Kurt graciously offered to share this thoughts on transforming a city lot into a landscape that reflects who they are. Both Kurt and Margot are professional artists and fine art instructors at Spokane Falls Community College. Here is a link to my column in today's edition of The Spokesman-Review: Tips help homeowners transform existing landscapes.
It's filled with his suggestions on how to approach a pre-existing landscape and make sound decisions. I hope you will enjoy it and find it helpful if you have recently moved or are contemplating a move.
And, of course, it wouldn't be Sunday if I didn't include this week's installment of "Everyone Can Grow A Garden!" The topic is very near and dear to my heart: raised bed gardening. I teach classes on this marvelous gardening method and wanted to share some of the key reasons why I love it so much, along with information on how to build raised beds. Enjoy!