July 9 Column: David Austin Roses Display Gardens (Travel)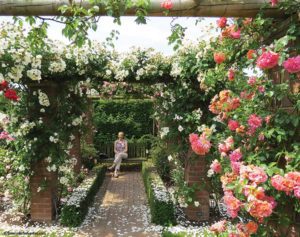 Oh my. I've recently had one of those life-altering garden experiences and am delighted to share it with you in my column today. It's about my recent visit to the David Austin Roses display gardens, located in Albrighton, England. Here is a link to my column in today's edition of The Spokesman-Review: Home visit with breathtaking views of Austin roses.
In it, I explain how David Austin has been breeding stunningly beautiful roses since the 1950s. Today at age 91, he and his family are still very much involved with the business of sharing these gorgeous roses with gardeners like you and me.
In today's "Everyone Can Grow A Garden!" video, I take you on a virtual tour of the display gardens and also share photos of some of the rose cultivars I loved the most. It should be a visual treat for you!
Here are more details about the gardens:
Location: Bowling Green Lane, Albrighton (village), Wolverhampton (city) WV7 3HB (you can use this post code in a GPS to find the gardens)
Email: plantcentre@davidaustinroses.co.uk
Hours: gardens, plant center and gift shop 9 a.m. to 5 p.m. daily, tea room 9:30 a.m. to 4:30 p.m. daily
Admission is free!