July 23 Column: Coeur d'Alene Garden Tour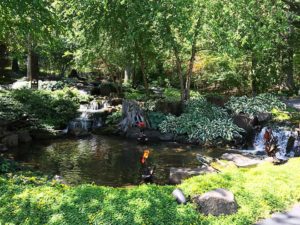 Next Sunday (July 30) is the date for this year's Coeur d'Alene Garden Tour and you won't want to miss it! There will be 3 gardens featured and one of them belongs to Duane and Lola Hagadone. In my column today, I've written a preview of the tour so you know how special this will be. Here is a link to it in The Spokesman-Review: CdA Garden Tour features a visit to the Hagadone estate on Casco Bay.
Duane Hagadone is the publisher of the Coeur d'Alene Press as well as other newspapers in the region, and founder of the Coeur d'Alene Resort & Golf Course. This marks the third time that the Hagadones have been a part of the tour, although the previous two times were at his previous residence.
I had the privilege of interviewing Mr. Hagadone recently and he was very gracious and enthusiastic. He feels strongly about sharing their garden during the tour because this is a charitable event for the community.
What's particularly enjoyable about seeing their garden is that you get to take a boat trip over to Casco Bay to visit it. The details about the timing of the boat rides, hours of the tour, and descriptions of the two other gardens can be found in my column.
My favorite sights during my personal tour of the garden — given by Estate Manager Luke Forsmann — were the many waterfalls and pools, the beautiful plantings of hostas, geraniums, sun-loving perennials, groundcover-edged pathways and shady glens. Well, and obviously the gorgeous setting on Lake Coeur d'Alene, of course!
Luke told me he has enjoyed how much the Hagadones have been involved in creating a vision for their Casco Bay property's landscape. He also wanted to let visitors know that the following two people were instrumental in implementing that vision:
"Lori Cates (of Gibson's Nursery) and Travis Curtis (director of landscaping for the Hagadone Corporation) were the main designers and installers for the garden."
During my interview with Mr. Hagadone, he told me how his "signature plant" is the red geranium. He told me they buy over 35,000 of them every year (wow), many of which are for their home garden and the remainder are for his businesses. I also learned that Mrs. Hagadone's favorite plant is the dahlia, so you will spot them here and there.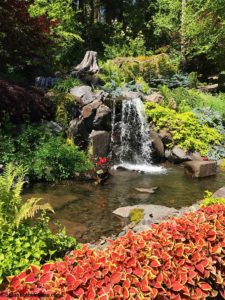 While you're touring their garden, be sure to admire the Hagadones' beautiful home, which is elevated on stone pillars and has plenty of glass walls to through which one can admire the amazing views. The photo above shows how the large pool of water is underneath their home!
I also wanted to share this week's "Everyone Can Grow A Garden!" video with you, so here it is. The topic is mid-summer gardening tasks. Enjoy!