July 2 Column: Shade Gardens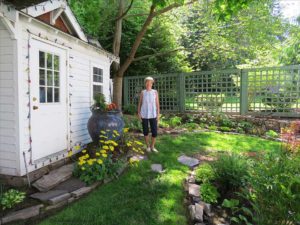 OK, how many of you are dealing with shady conditions in your yard? I have very little shade and have to admit that I long for some every summer. However, I know folks are interested in learning how to create a beautiful garden in their shady areas. So today's column is all about shade gardens. Here's a link to it in today's edition of The Spokesman-Review: Shade makes for a cool garden.
For it, I interviewed exceptional gardener and emeritus Master Gardener Merilee Dinneen. She has a beautiful shade garden and has learned through the years which plants grow best in it. You'll notice I've included several photos from her garden at the bottom of this post (don't miss them!) just to give you some inspiration.
During our conversation, I asked if she had dry shade in her garden, which can be very challenging. It turns out she doesn't, but since a lot of you are dealing with those conditions, here is a list of some plant ideas researched by Merilee:
Lamium, foam flower (Tiarella), Hellebore, cushion spurge (Euphorbia polychroma), big root geranium, Bugleweed (Ajuga), false goat's beard (Astilbe), Brunnera, lily of the valley, 'Stella d'Oro' daylily, Solomon's seal (Polygonatum), snake root (Cimicifuga).
This week's "Everyone Can Grow A Garden" video is a tour of my vegetable garden:
And here are some additional photos from Merilee's garden: (remember that you can click on any of the photos to view a larger image)