July 16 Column: Fragrant Plants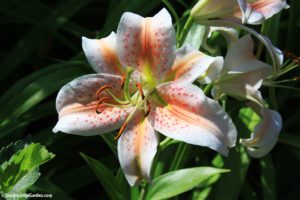 Today's column is on a fun and useful topic: fragrant plants for your garden. I have several types of fragrant plants in my own garden, which got me to thinking about coming up with a list we can all use as a resource.
Enter my awesome Master Gardener colleagues! I decided to email about 10 of them because I didn't want to miss listing some of the most obvious — as well as some you wouldn't ordinarily think of. Well, let me tell you, they came through with wonderful suggestions. Thank you, friends!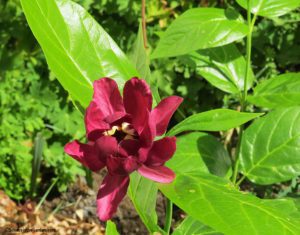 Here is a link to my column in today's edition of The Spokesman-Review: Don't forget to add fragrance.
It certainly isn't a comprehensive list because there just wouldn't be enough room to list them all. (after all, my columns are only 600 words long!) But my goal is to get you thinking of plants that would give you more than beauty in your flower beds. Beauty is lovely, but if you add a knock-out fragrance to the mix, you've really got a winner. I hope you will enjoy reading it.
This week's edition of my "Everyone Can Grow A Garden" videos is a tour of my large perennial bed. I know I've given you virtual tours of my vegetable garden throughout the season, but never one of my favorite flower bed. So I hope you'll enjoy it… and you get a sneak peek at our lavender patch, which is currently blooming its heart out!
Now, if you're wondering what the two plants are within the text of this post, the upper one is Oriental lily 'Salmon Star' and the red-flowered shrub is Calycanthus/'Aphrodite' Sweetshrub. I am absolutely crazy about Oriental liles, by the way! They are hardy, very easy to grow, the blossoms are magnificent, and the scent is out of this world. I'd never grown Sweetshrub until last summer and feared it wouldn't make it through our tough winter, but it's growing beautifully and the flowers are quite exotic-looking.