June 4 Column: Growing a Greener World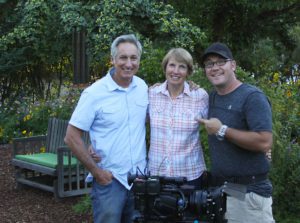 Let's see now… in a nutshell, my garden is going to be featured on the June 17th episode of the popular PBS gardening show, "Growing a Greener World." How's that for news? In my column today, I explain how this all came about and what it took to get ready. Here's a link to it in today's edition of The Spokesman-Review: Columnist's garden showcased on PBS's 'Growing a Greener World'.
In the Spokane area, "Growing a Greener World" airs at 9:30 a.m. on Saturdays. However, if you miss it, you can always catch it on their website: GrowingaGreenerWorld.com. The title of the episode is "In Susan's Garden." (how cool is that?)
For today's "Everyone Can Grow A Garden" video, I put together a slideshow of photos taken while the host, Joe Lamp'l, and his cameraman, Carl Pennington, were here last August to film the episode. I hope you'll enjoy it… along with the episode, of course!