Spring Flowers: Pink and Purple in the Garden

On Monday, I shared some of my favorite yellow spring flowers with you. Today, let's look at pink and purple. It seems like they are easier to find this time of year, but they sure add a lot of depth to the garden. Note that you can click on any of the photos within this post to view a larger image.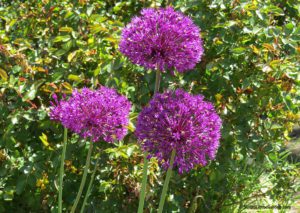 Alliums _ Our 'Purple Sensation' alliums started blooming about 10 days ago and they are stunning. I planted the bulbs last fall and the plants are now about 30 inches tall. Wow. They look great in groupings and really add some dimension to perennial borders. Mine are in a bed that is still getting established (just planted it last spring), so they really stand out but I'll be interested to see how they look in a couple of years, once everything else in the bed has achieved some height. Alliums are deer- and gopher-resistant, and hardy down to zone 4.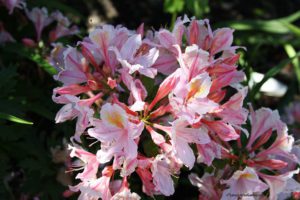 Azaleas _ Ooh, how I love this peachy-pink azalea! It's been blooming for about a week and really brightens up my back perennial bed. These delightful plants range in hardiness between zones 3 and 5, and can be grown in areas that are up to zone 9. I've found a website that lists some of the hardiest azalea cultivars available. I only have one azalea but it's doing quite well in an area with part shade. You can find a lot of information about growing azaleas on the Azalea Society's web page.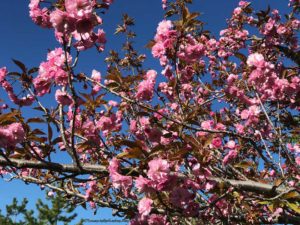 Cherry Tree, 'Kwanzan' _ We have two of these lovely ornamental cherry trees. They are so lovely when blooming: the double flowers are very pale pink and when they start losing their petals at the end of the bloom period, we have a gentle "pink rain" going on in our garden! The leaves are a bronze color, which makes for an interesting color combination with the flowers. Trees are hardy down to zone 4 and can grow 20 to 25 feet in height. They require regular watering.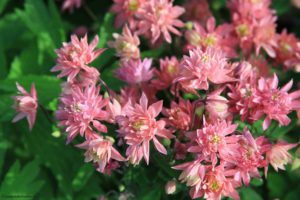 Columbines _ These delightful perennials are definitely early spring bloomers, sending impressive flower stalks above their lacy foliage. There are many cultivars available, some in yellow, but most seem to have either pink or purple blossoms. Hardy down to zone 3, the plants can grow up to 2 feet tall when in bloom. They'll grow in sun to part shade, and they're even deer-resistant! (yes!) The plants bloom during the months of May and June in this region. Columbines make a delightful addition to any perennial border.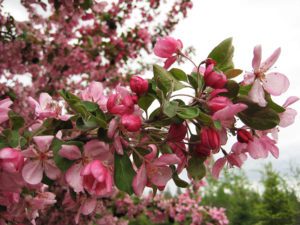 Crabapple Trees _ We have several that border our main backyard and let me tell you, when they are in bloom, my heart sings! Each tree is just buzzing away due to all of the pollinators they attract. Bloom-time is during the month of May. Our trees are basically ornamental crabapples, producing very small fruit. But as you've probably noted from my wintertime bird photos, waxwings and robins absolutely love eating them. The trees are very easy to grow, and hardy down to zones 3 to 4. I'm embarrassed to admit that I can't remember the name of this cultivar for the life of me! Sorry. Most crabapple trees range from 15 to 20 feet tall.
There are two general types of peonies in my garden: herbaceous and tree: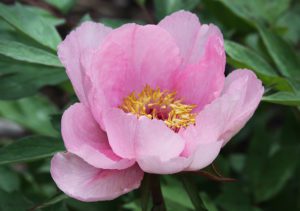 Peonies, Tree _ The tree peonies are the first to make an appearance and they are absolutely breathtaking. The petals look like crepe paper and most of the plants have really attractive foliage. I've noticed that bees are very attracted to the pollen on the flowers, so it's nice to know they're helping out the pollinators! The stems are very woody. Plants do best in areas that get afternoon shade so the flower petals won't fry in the heat and bright light. They typically do best in zones 4 to 9, although many will survive in zone 3.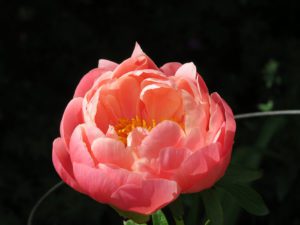 Peonies, Herbaceous _ While we're on the subject of peonies, the other main type is the herbaceous peony. They have tender green stems compared to the tree peonies. (yes, there is another type called "intersectional," but I don't have any in my garden so I don't have any experiences to share with you) The herbaceous peonies will be blooming in other 2 weeks or so and there are so many wonderful cultivars out there to enjoy. In my garden, I mainly have pale pink 'Sarah Bernhardt', a deep magenta cultivar whose name I've forgotten and 'Coral Charm' which is a stunner. These peonies are hardy down to zone 3 and grow about 3 feet tall. I find they usually require some support. Just to give you some ideas of the gorgeous colors you can find, take a look at what White Flower Farm offers. Wow!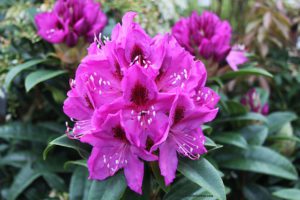 Rhododendrons _ Well, my discussion of spring flowers wouldn't be complete without mentioning rhodies, would it? Mine are just starting to bloom. How did yours do over the winter? My rhodies have a lot of burned areas which is frustrating. I'm hoping they will perk up over the growing season. I've found rhododendrons do best with protection from the afternoon sun; mine are planted in front of my north-facing front porch and have done really well there. When we bought ours, we selected the hardiest cultivars we could find. Most will grow in zones 5 to 9, but I found some zone 4 rhodies when we bought them many years ago. The most important thing I've learned about them is to water the plants really well before winter arrives. Also, be sure to deadhead yours as soon as they're done blooming. If you're interested in how to select and grow them, be sure to consult the American Rhododendron Society's very helpful website.