Book Review: Gardening for Butterflies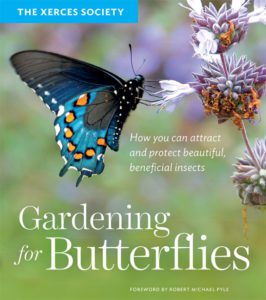 Gardening for Butterflies: How You Can Attract and Protect Beautiful, Beneficial Insects by the Xerces Society (Timber Press, 2016, 287 pp., $24.95)
Don't you just love learning new things? I know I do. I've been wanting to find out more about attracting butterflies to our garden and found an ideal guide for that exact purpose.
Gardening for Butterflies is a collaboration between Timber Press and the Xerces Society that is beautifully organized and filled with wonderful photos of these amazing creatures.
As the authors explained it, "Whether you live in California's Central Valley, upstate New York, or the panhandle of Texas, you can play a critical role right now in saving the earth's butterflies. You don't need a large space. A small yard with just a few native plants can attract and sustain dozens of butterfly species. And beyond aiding butterflies, your yard can become a wildlife refuge for all of the creatures that pollinate crops and wildflowers in your region. Your efforts will support countless other creatures as well, from lady beetles to songbirds."
As I read these opening words, I thought, "OK, how do I get started?!"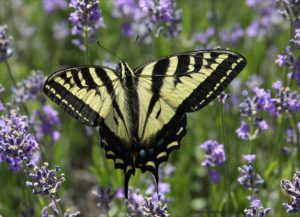 The authors began by explaining how butterflies and moths belong to the order Lepidoptera and how there are 160,000 species of them found around the world. About 20,000 of those are butterflies and there are 800 species found in the United States.
They detailed the differences between butterflies and moths, and stated how butterflies are significant pollinators of some flowering plants, with pollination occurring while they're in search of nectar.
The information on the commonalities between plants that are pollinated by butterflies was interesting:
They bloom during the day, nectar is found at the bottom of the tubular flower, they have a sweet fragrance, the flowers have a large enough platform for butterflies to land on, the flowers are in colors they can see, and they have "nectar guides" (often ultraviolet) which are lines that point toward to source of nectar.
Sadly, butterfly species are experiencing significant population declines due to a loss in habitat, far too much use of pesticides and climate change. The reason climate change has impacted them is primarily due to plants emerging and blooming either earlier or later than butterflies expect to find them.
In the next section of the book, "Knowing butterflies and what they need," the authors describe all of the families and which butterflies are members of them. These include skippers; swallowtails; whites, marbles and sulphurs; gossamer-winged; and brush-footed butterflies. They also explain the stages of a butterfly's life (egg, caterpillar, chrysalis or pupa, and adult).
But what really caught my eye was the information on the needs of the adults and caterpillars. The adults lay their eggs on specific host plants, which the caterpillar then eats. Did you know the caterpillars go through multiple skin molts before entering the chrysalis stage?
There is information on host plants (wildflowers, grasses, shrubs, trees), how to create a butterfly feeder or mud puddle, and nectar plants. The authors also discuss the type of sheltering habitat butterflies require.
The following section, "Designing your butterfly garden," contains several design plans to provide ideas for gardeners wanting to draw in butterflies to their landscapes. There are tables of the best butterfly garden plants by region, which include the bloom times and flower colors.
This is followed by the meatiest section of the book, "Butterfly garden plants of North America." In it, the authors profilethe wildflowers, grasses and sedges, vines, trees and shrubs that will have butterflies knocking at your door. A lot of emphasis is placed on the importance of growing native plants and I found plenty of great ideas for my own garden.
At this point, they go into the nitty-gritty of actually choosing your plants, installing them in your butterfly garden and providing the small amount of maintenance it will require.
The primary goal is to create a wild habitat by patronizing local nurseries that specialize in native plants: in the Spokane area, think of places like Blue Moon Garden & Nursery, Plants of the Wild, Desert Jewels and the Spokane County Conservation District. But equally important, don't use insecticides.
Now, just in case moth-lovers feel they're given short shrift in Gardening for Butterflies, the authors have devoted a chapter on how to garden for moths, which includes a guide to the many amazing moth families and moth garden plants.
At the end of the book, the authors discuss ways to both observe and enjoy butterflies in ways that are beneficial to these delicate creatures. There are many interesting resources included as well.
So, what did I learn from this book? Choose an open, sunny location that is protected from strong winds. Plant native host plants and nectar plants, especially wildflowers. Create sheltered areas. Plant en masse. And — above all — don't use pesticides. A most excellent book!