Ornamental grasses add texture to the landscape

How do you feel about ornamental grasses? I've liked their look for ages but feel I've really slighted them in my landscape. I guess I naturally tend to gravitate more toward flowers.
But after visiting Manito Park's Joel Ferris Perennial Gardens this fall, I'm all fired up about adding more to my garden! After all, they're easy to care for, add texture and structure to the landscape, along with plenty of winter interest.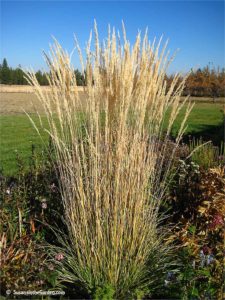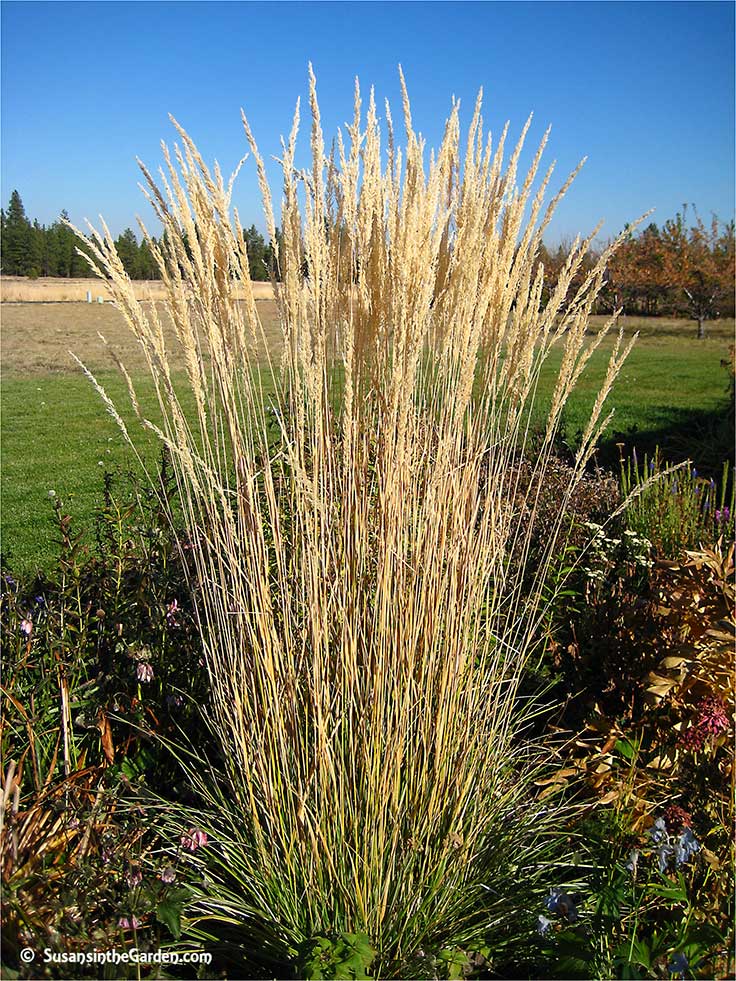 Currently, I have two 'Karl Foerster' Feather Reed Grass (Calamagrostic acutiflora) (photo to left) which are attractive during the main part of the growing season. But in the fall, their inflorescences (the flower heads) just glow. And they look great during the winter, too… that is, until we get a lot of snow.
I also have Northern Sea Oats (Chasmanthium latifolium) which has almost bamboo-like leaves that make a pleasing rustling sound in a breeze. But what really draws me to them are the chevron-style seed heads that turn a bronze color in the fall.
There's also a Mexican Palm Sedge (Carex muskingumensis) in one of our back flower beds that is mighty pretty. The leaves are kind of spiky and also rustle nicely in the wind. The flower heads are a pale brown and quite attractive.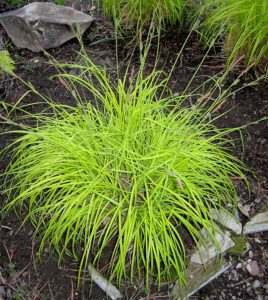 So I haven't entirely abandoned ornamental grasses in my landscape! The fact that they are so low-maintenance is very appealing to me, since I often plant perennials that need a lot of deadheading and reining in. (photo to right is Carex 'Bowles Golden')
Back to Manito Park… look below to see the beautiful ornamental grasses I saw. Aren't they just stunning? Each has different textures, heights and coloration. I'm definitely putting them on my list for next year!
The first one is 'Roland' Japanese Silver Grass (Miscanthus sinensis). It grows 6 to 7 feet high and does well in USDA zones 5-9.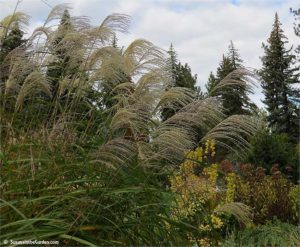 The next two photos are of another Japanese Silver Grass, but the cultivar is 'July' (also called 'Juli'). What I love about it is the pinkish red in the stems and it is supposed to get red inflorescences. It also grows 6 to 7 feet tall and is hardy in zones 5-9.
And here's yet another Japanese Silver Grass which was labeled as 'New Hybrids'. Don't you just love how the flower spikes glow? I'm sure it's beautiful when there's a breeze blowing, too. It grows 5 to 6 feet tall.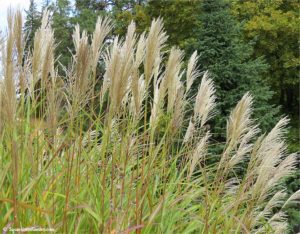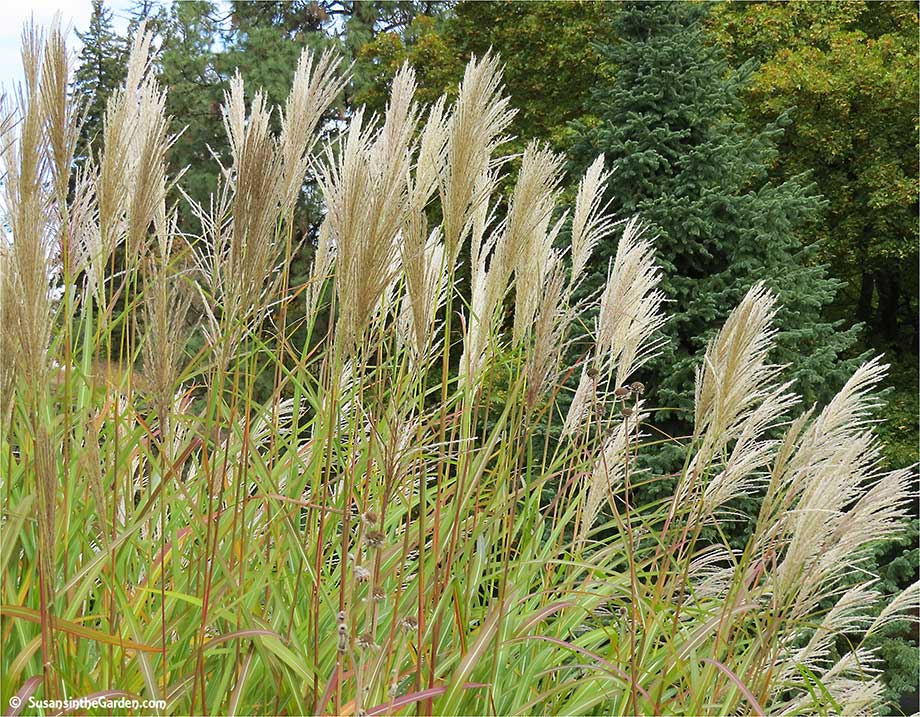 The photo below is of a Red-leaved Flame Grass (Miscanthus sinensis 'Purpurascens'). This one is a bit shorter, 4 to 5 feet, and also grows in zones 5-9. How do you like those red leaf blades?!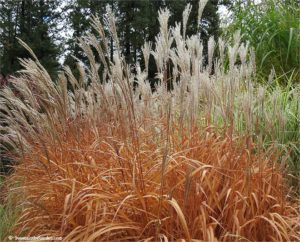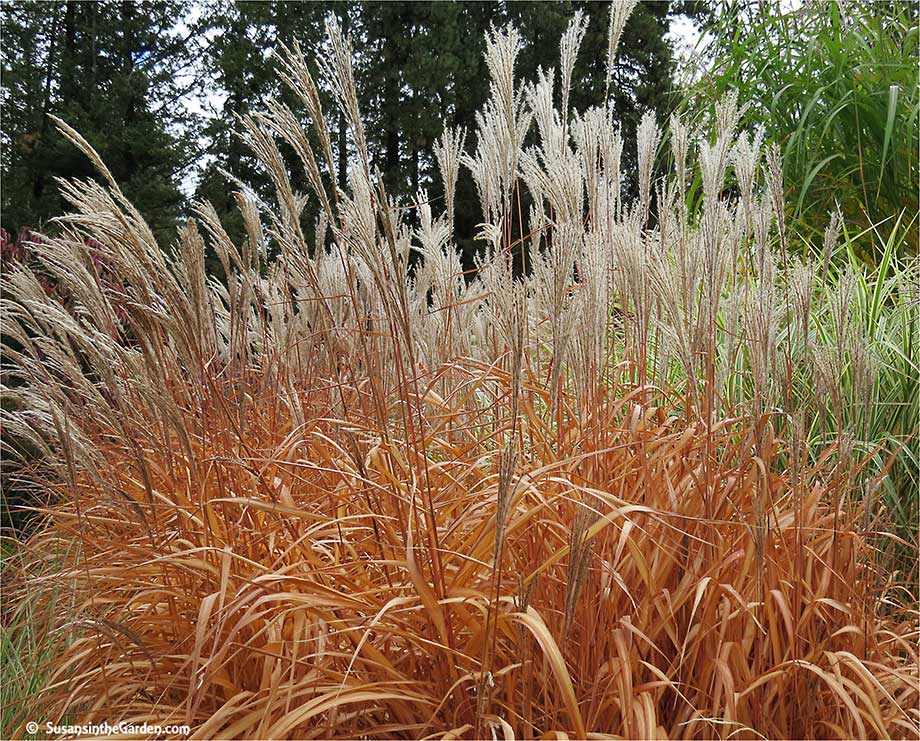 Here are two other ornamental grasses I saw that I think would add interesting texture to the landscape. Unfortunately, I couldn't find labels for either of them but I love how they look! Next time I'm at Manito Park, I may have to do a bit more investigating as to their names.
And last but not least, the photo below is of a Japanese Forest Grass (Hakanechloa macro). I believe this one is 'Aureola' and love how the leaf blades drape over a bed: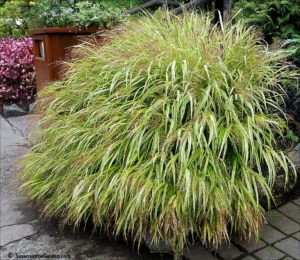 OK, I hope these photos give you plenty of inspiration! I definitely plan to add more grasses to my beds next year.