Garden Travels: Savannah Botanical Garden

Continuing with tales of our recent two-week trip to Georgia, I wanted to show you a beautiful small garden that Bill and I visited. It's the Savannah Area Council of Garden Clubs Botanical Garden. And yes, that's a mouthful, but what a gem it was!
This 10-acre garden is the collaborative effort of Savannah-area garden clubs and admission is free, although donations are gladly accepted. It features a lovely rose garden, herb parterre, a children's garden, vegetable garden, pond and nature trails. As you look at the photos within this post, remember you can click on any of them to view a much larger image.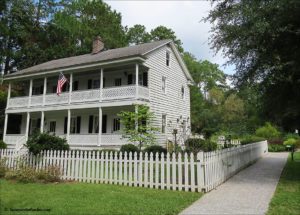 When you first arrive, you're greeted with a view of this beautiful old farmhouse. This is the Reinhard House, which was originally built in the downtown Savannah area in about 1840. When it was at risk of being torn down in 1990, some conservation-minds folks saved it by having it moved to its present location at the botanical garden.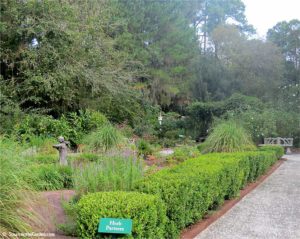 The interesting thing that happened when we first arrived at the garden is that my camera lens kept fogging up due to the high humidity. That was a problem I don't experience in the Spokane area! You'll notice how my photo of the herb parterre, seen to the right, has a bit of an ethereal look to it… that was before I realized what was happening to the lens.
I enjoyed looking at the plants, many of which are unfamiliar to me. What do you think of this'Black Pearl' ornamental pepper?! Looks kind of deadly to me, whether it's ornamental or not! Certainly a conversation-starter.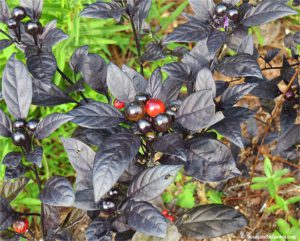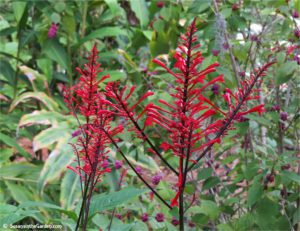 And who knows what this plant with the red flower spikes is? It looks a bit like a Salvia to me but I don't think that's right. I haven't had any luck with web searches but sure would be interested to know what it is. It looks like something the butterflies and hummingbirds would love.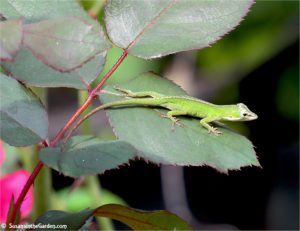 We also saw some of these little green Anole lizards from time to time. Every so often, I'd see a plant shake and realize that one had been near the top of the plant but dropped down to the ground. While they're cute to look at, I don't know if I'd enjoy gardening so much if one of those dropped onto my head while I was weeding!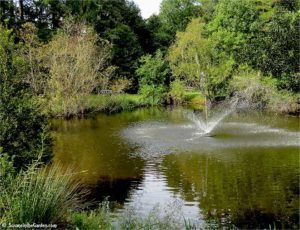 As we wandered through the garden, this beautiful pond came into view. Looks like a nice spot for a turtle to have a good snooze in the sun! There were trails leading around the pond.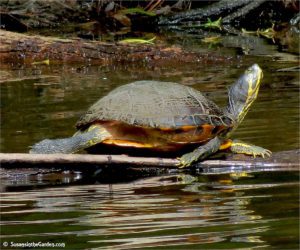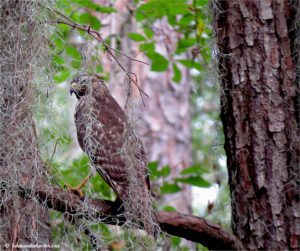 Another bit of wildlife that we spotted was this hawk, sitting in a moss-covered tree. My husband, Bill, believes it is an immature Red-shouldered hawk. He was definitely keeping an eye on us. We walked on a portion of the trails, although since I was wearing sandals, and after seeing a few signs warning of snakes, I quickly decided to stay closer to the garden itself!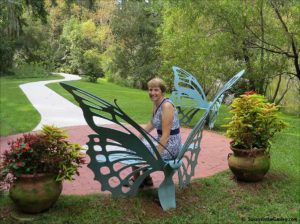 If you're on Facebook, you probably saw this photo of me sitting on one of the butterfly benches in this garden a few days ago. Now you know where those benches are from. Wouldn't we all love to have one (or two) in our own gardens?!
While I've been to many large botanical gardens over the years, the Savannah Area Council of Garden Clubs Botanical Garden was an unexpected delight and reminded me of the old adage, "Good things come in small packages." So true! Wouldn't it be fun for garden clubs across the country to collaborate on creating their own botanical gardens within their communities?
The Savannah Area Council of Garden Clubs Botanical Garden is open year-round during daylight hours and is the result of the tireless efforts of 15 garden clubs. For more information, view their website.