Garden Travels: Garden Decor That Says 'WOW!'

There's garden decor, and then there's garden decor! During the garden writers' conference I attended in Atlanta last month, we were treated to several tours of amazing, private gardens.
These tours provide me with sources of inspiration, even when their growing conditions aren't anywhere near the same as mine. All of us can use extra inspiration, right?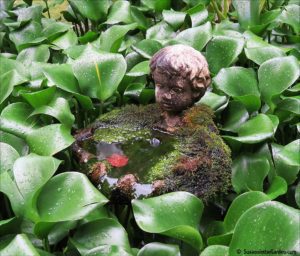 So, in this post, I wanted to share some photos that I took during these tours, to give you ideas for your own gardens. I tend to be a rather practical gardener but as you'll see, a little extra attention to detail elevates a garden to something very special.
Sometimes it's a little garden art or a vignette of attractive or whimsical items. And sometimes it's the creation of a personal space where one can enjoy being surrounded by the beauty of nature.
Take a look at the following photos to see what I'm referring to. Did they make you want to aspire to a higher level of garden decor next year? I know I'm inspired!
Remember that you can click on any of the photos to view a much larger image.