Sept. 25 column: Drip irrigation

Throughout the growing season, I enjoy profiling local gardeners who have a spectacular garden or a special skill to share with you. In today's column, Tracy and Alan Lewis have both! They primarily wanted to explain how they set up a drip irrigation system as an add-on to their existing sprinkler system. Here's a link to it: Drip system need not be daunting.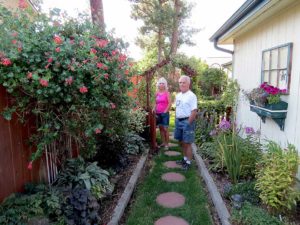 I think a lot of folks feel daunted by the prospect of configuring a drip irrigation system, or they think it has to run independently of regular sprinklers. The Lewises were more than happy to share what they did, why they did it, and how they accomplished their goal of getting just the right amount of water to their entire landscape.
Tracy Lewis is a Master Gardener who definitely has a green thumb and an eye for garden design. I hope you'll enjoy reading about their garden and feel inspired to delve into the world of drip irrigation as well.
Enjoy!