Sept. 18 column: Specialty bulbs

I know next spring seems so far off but fall is the time for planting spring-blooming bulbs. But not just any bulbs, mind you. Why not plant some of the less common specialty bulbs? That's exactly what I wrote about for today's garden column. Here's a link to it: Plant bulbs this fall for a colorful display next spring.
If you're wondering what types of bulbs are considered specialty bulbs, I'm primarily talking about snowdrops, Frittilaria, Alliums and unusual grape hyacinths. There are a lot of great sources for them, both in local, well-stocked garden centers and online. This is the time of year to order them. My biggest problem is not getting carried away and spending a ton of money after looking through the catalogs!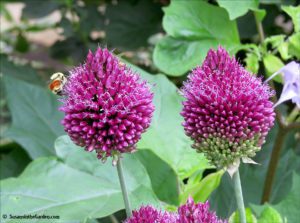 The time frame for planting spring-blooming bulbs is after your weather gets coolers but before the ground freezes. Bulb packages will tell you how deeply to plant them and the spacing as well. Most bulbs look more natural and are more eye-catching when you plant them in groupings of some sort, rather than in a straight line.
I recently put in my order for bulbs and can't wait for the package to arrive. The great thing is that bulb purveyors do a good job of sending your package when the time is right, so I won't have to worry about jumping the gun!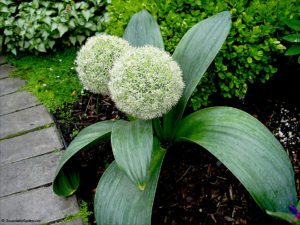 If you're wondering about the identity of the bulbs in these photos, all three are Alliums. The top is 'Globemaster', the bulb directly above is 'Drumstick' and to the right is 'Ivory Queen'. Aren't they wonderful? And wouldn't they look great in your garden?
I hope my column will pique your interest and perhaps encourage you to try some bulbs that you wouldn't ordinarily think of planting. They'll be a lovely surprise come spring!