July 14 column: Heat-tolerant plants

If it's Sunday, it's time for my next garden column! This one is timely because it delves into some of the most heat-tolerant plants around. Here's a link to it in today's edition of The Spokesman-Review: Choose flowers that can take the heat.
In it, I discuss both annuals and perennials that provide our gardens with plenty of color when the temperatures inch their way up this time of year.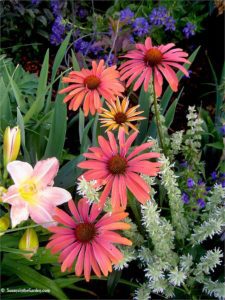 The ironic thing is that this spring, I was predicting another hot, dry summer for the Inland Northwest. If you think back to last summer, it was so dreadfully hot. In early June, we hit the 90s and those high temperatures continued throughout the summer. Ugh.
So, when we had a week of the 90s this June, I had a sinking feeling this was becoming the new norm for our region… a prospect I wasn't too crazy about. Surprisingly enough, our temperatures have been switching from hot to cold, to hot to cold, and so on. I wasn't expecting that at all, although I have to admit I'm grateful it hasn't been a repeat of last year.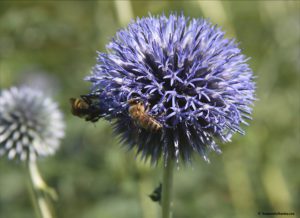 One plant I mention in my column is Globe Thistle (Echinops). I know all gardeners hate the word "thistle" but this plant is very cool and not hideously invasive like Canada thistle. As you can see by the photo to the left, pollinators are crazy about the flowers. What's even better is that goldfinches feast on the seeds in the seedheads during the winter months, so it's an important source of nutrition.
I hope my column will give you good ideas of annuals and perennials to add to your garden next year. They will be able to take what Mother Nature sends their way each summer!