Aug. 28 column: Permaculture

One of the nicest things about being a garden columnist is that I get to meet and learn from awesome gardeners. In my column today, I introduce you to Master Gardener/Master Composter Ryan Herring and learn about permaculture. Here's a link to it in The Spokesman-Review: Permaculture goes beyond the garden to daily life.
Ryan explained to me that permaculture isn't just a "thing" — it's a series of principles and ethics that help guide you through both gardening and a lifestyle that is environmentally sustainable.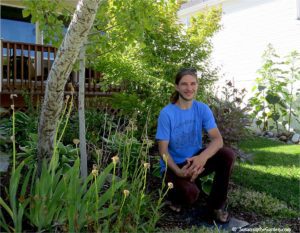 He was also excited to share with folks about the upcoming Permaculture Convergence, which will be held in Tumtum, Wash. from Sept. 9-11. To learn more about it, be sure to visit their website at inlandnorthwestpermaculture.com/. There will be workshops on a variety of topics, hands-on activities, vendors, booths and kids activities.
Another important event he told me about is the Introduction to Permaculture series of classes, which will be presented by Jeremy Cowan PhD at Spokane County Extension. The classes run on Saturday mornings from Oct. 22 through Nov. 19. For more information, visit the Extension website. This is a great opportunity!
I hope you'll enjoy reading about Ryan and how permaculture is an integral part of his life.