July 10 column: Succulents

Oh how I love succulents! They are the coolest and toughest plants around. And they are incredibly popular these days because lots of folks have come up with creative containers to plant them in.
My column in today's edition of The Spokesman-Review is about this very topic: For low-water performers, give succulents a try. In it, I discuss the main types of succulents and which ones are hardy enough to grow in northern climates like mine.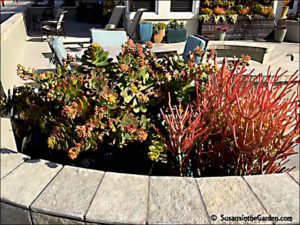 I also cover how to care for them and the conditions they like to grow in.
If you are looking for some REALLY COOL ideas of what to do with succulents in and around your home and garden, please visit my Pinterest page on succulents. There are so many clever, creative ideas that will knock your socks off!
In the meantime, I hope you'll enjoy the photos on this post. I seem to be drawn to succulents like a magnet, ha ha. To view a larger image, click on any of the photos. How do you like the big urn of succulents below? I saw that in an English garden during a 2011 trip. I told myself, "I need one of those in MY garden!"