July 26 column: Heucheras

If it's Sunday, it must be time for another of my garden columns. This week's is on two awesome perennials, heucheras and heucherellas. Here's a link to the column in today's edition of The Spokesman-Review: Heucheras add color in shady places.
Many folks know heucheras by their more common name of coral bells. Heucherellas are a cross between a heuchera and a tiarella, otherwise known as foamflower.
Of course, there are now so many amazing cultivars out there, all prized for their amazing foliage. And that's why I chose to write about them because they add so much to the shady spots in our gardens.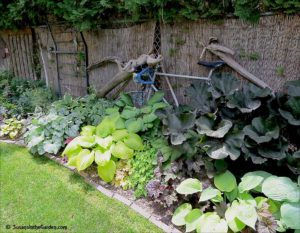 Both heucheras and heucherellas have flowers but they tend to be rather insignificant compared to the many colors of leaves the different cultivars have.
In the column, I provided a link to heucheras.com, which is a website containing photos of the different heuchera cultivars. After perusing the photos, you will definitely want to snag some for your very own garden!
Both of these photos came from Master Gardener Martha Kenney's lovely garden. Enjoy.