May 8 column: Alternative Lawns

I've been excited to share with you what I've learned about alternative lawns, which includes 1) other types of lawns you can grow and 2) alternatives to having lawns altogether. For this feature story, I interviewed Spokane County Master Gardener Kris Moberg-Hendron for her expertise.
Several years ago, Kris ripped out her lawn and replaced it with drought-tolerant plants. But don't worry, if you're not quite ready to take the plunge and eliminate your own lawn, she has many excellent suggestions on how to reduce the size of your lawn while making your landscape very inviting and enjoyable.
Here's a link to this article: Remove or reduce your lawn for easier gardening.
And while we're on the subject, I wanted to share a few photos with you. The photo at the top of this post shows Kris and her husband Lars sitting in their "lawn-less" front garden. I took the photo a few weeks back, before plants had greened up. That was because I had intended to have this article run quite a bit sooner than today, in case you wanted to jump right into making a change to your landscape. But I soon realized it would be just as effective to have it run in early May.
The next photos were taken while I was down in Southern California in late March. As you've probably heard, California has been experiencing a horrible drought, so I wanted to see what homeowners were doing to conserve water yet still have attractive front landscapes.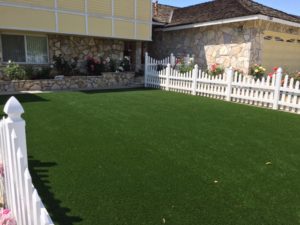 The first two photos show "fake" lawn, which you have to admit looks pretty decent. The close-up shows how it comes with varying length fibers to make it look a bit more realistic than the old-fashioned Astro-turf. (you can click on any image to view a larger one)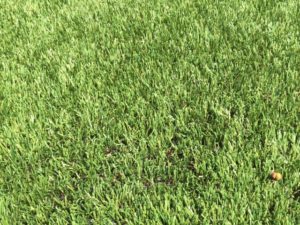 Then I wanted to show you two front landscapes where they've planted alternatives to lawns. I was impressed and am hoping the idea will catch on with more folks!