Products
As gardeners, we're always looking for just the right tool to do the job, right? The products listed here are ones that I have personally tested and use in my garden.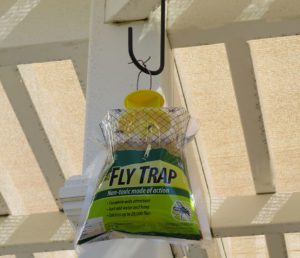 Rescue Disposable Fly Trap: Because our neighbor boards horses and we have a few chickens, flies can be an issue for us during the summer and fall months. They are so annoying! For many years, we've been using the Rescue Fly Trap and it is very effective. The best part is that they don't use any toxic chemicals. Read my product review. Price: about $5.00. Available at home centers, garden centers, hardware stores, farm supply stores and more.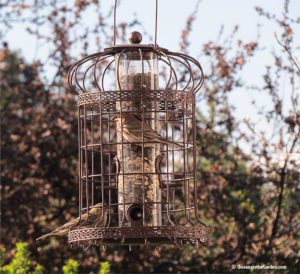 Edwardian Bird Feeder: I love, love, love the birds in my garden! And I'll do anything to attract them. If you enjoy birdwatching, this decorative feeder is a charming way to bring in the birds. It's squirrel-resistant, too, and made of durable metal. Easy to refill. Read my product review. Price: $39.95. Find it on Gardener's Supply.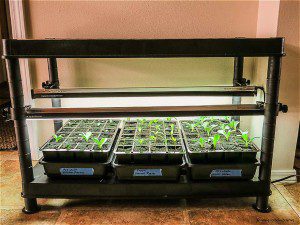 Stack-n-Grow Light System: If you enjoy starting seeds indoors, you know that grow lights make all the difference in how well your plant starts will grow. This system is sturdy yet lightweight, and the best part of all is that you can add onto it to increase your growing space. Read my product review. Price: $169 for single system, $125 for each additional level. Find it on Gardener's Supply.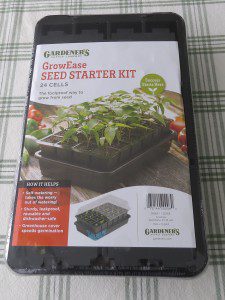 GrowEase Seed-Starter Kit: I start almost all of my plants from seed so am always on the lookout for well-designed seed-starting kits. The GrowEase kit meets my criteria: it's sturdy and can be washed in the dishwasher! What a great way to sterilize the components after use. Read my product review. Price: $16.95 to $24.95. Find it on Gardener's Supply.
Cobra Head Weeder & Cultivator: I've been using this tool for over a year and just love it. You can using it for all sorts of gardening tasks, such as weeding in crevices, creating a furrow for planting seeds, digging up potatoes and so on. Read a product review I wrote on it. Price: $24.95. Find it on Amazon.com.
Orchard Rack: I don't know what I'd do without this awesome 6-drawer rack! I use it to store green tomatoes for ripening, onions and small winter squash. I bought it in 2009 and it still looks brand-new. Price: $169. Find it at Gardener's Supply.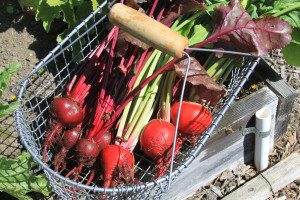 Harvest Basket: Here's another tool I've used for years and it still is in perfect condition. This basket and sturdy and ideal; once you've placed your harvested produce in it, you can easily rinse them off with a hose before bringing them into the kitchen. Price: $39.99. Find it at Peaceful Valley Farm Supply.
GardenEase Kneeler: If you're like me, you find that getting up and down repeatedly while gardening just wears you out. This kneeler has very cushy knee pads to keep your knees happy and ergonomically-designed handles to make it easy on your wrists for all that getting up and down. Read my review of the GardenEase Kneeler. Price: $69.95. Find it at Gardener's Supply.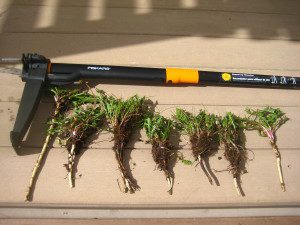 Fiskars Uproot Stand-up Weeder: Do dandelions and other taproot-type weeds drive you crazy? I tried out this stand-up weeder and it gets the majority of my dandelion roots, compared to other stand-up weeders. It's pretty easy to use and, best of all, it's backed by Fiskars lifetime warranty… something you rarely see these days. Read my review of this weeder. Price: $29.97. Find it on Amazon.com.
Water Right Garden Hose: A hose sounds like a pretty basic tool, right? If I have to drag them around to different areas of my garden, I hate how heavy and unwieldy they can be. Enter the Water Right hose! It's sturdy yet extremely lightweight, and it won't kink. Add to that the 5-year warranty and cool colors and you've got the perfect package. Read my review of this hose. Price: $79.95 for a 50-ft. 1/2″ diam. hose. Find it at Water Right Inc.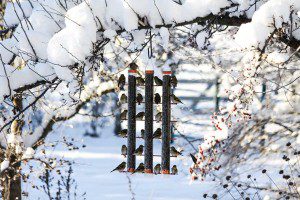 3-Tube Finch Feeder: As an avid birdwatcher, I enjoy attracting birds to my garden. After all, they are fun to watch and so many of them are great insectivores. When I saw this feeder, I knew the finches in our garden would go nuts, and I was right! Each of the three tube feeders holds a pound of thistle seed and has 24 different perches for the birds to sit on. As this photo shows, it's a very popular addition to our bird-feeding station. Price: $44.95. Find it at Gardener's Supply.