English Gardens Trip Announcement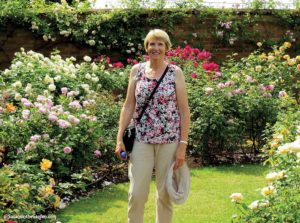 I have some very cool news to share with you today! I will be leading a trip to see some of the most stunning gardens in England next spring. To say I am excited about this would be the understatement of the year!
I have partnered with local travel agent Val Day, who has been in the business for over 40 years and owns International House of Travel. She contacted me a couple of months ago to see if I was interested in doing this and to get my input on the types of gardens folks would like to see. The resulting itinerary includes bucket-list gardens that any garden-lover would be interested in.
The highlight of the trip will be a day at the Chelsea Flower Show! (how many of you have that on your bucket list?) We will be visiting Waterperry Gardens, Waddesdon Manor House and Gardens, Hidcote, Cliveden Gardens, Chartwell House and Garden, Gravetye Manor Garden, Great Dixter, Sissinghurst Castle Garden, Nymans Gardens, the Chelsea Physic Garden, and Kew Gardens.
The trip will be from May 16-27, 2018 and departs from Spokane. Unfortunately, I realize that excludes many of you who follow me but for those who do live in this region, there's something you need to know:
On Saturday, Oct. 28, I will host an informational meeting about the trip at the Moran Prairie library, located at 6004 S. Regal St. (a couple of blocks south of 57th Ave.). The meeting will take place from 3 to 5:30 p.m.
I will go over the exact itinerary and Val will cover the specifics of what the trip will cost, what it includes, and any other details you would like to know.
This trip promises to be fabulous and I am really looking forward to having the opportunity to share these amazing gardens with you!
NOTE: If you are unable to attend the meeting, you can contact Val Day by phone at (509) 991-8334 or via email at Val@internationalhouseoftravel.com.