Northwest Flower and Garden Show: Report #2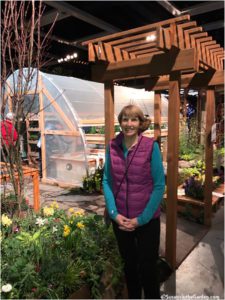 One of the highlights of the Northwest Flower and Garden Show in Seattle each year is walking through the amazing display gardens. When you take into account the fact that these beautiful, inspiring, finished gardens have all been created inside a concrete-floored convention center — and in a short period of time — it's really a feat we can all appreciate.
This year, a favorite garden of mine was the "Honey! We Shrunk the Farm: Urban Farming in Style" (whew, that's a long title!) created by Farmer Frog (farmerfrog.org) and designed by Zsofia Pasztor and the Team of Farmer Frog.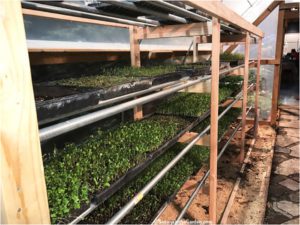 The goal of this garden was to demonstrate ways to grow food in a small area. The centerpiece of the garden was a hoop house filled with microgreens (hooray!), a place to grow plants in the ground, and an impressive aquaponics system that allows one to grow both veggies and fish. Very ingenious.
Outside the hoop house was a delightful urban chicken coop, an insect hotel, beehive, espaliered fruit trees and a hydroponics set-up for growing (in this case, at least) heads of lettuce. You can see the hydroponics system in the 2 photos below. That wouldn't take up much room at all, would it?
In the next photo (below), you can see beekeeping and seed-starting supplies, and in the final photo are some of the espaliered fruit trees and the chicken coop. All great ideas. Very well done, Farmer Frog!