Book review: How to Prune Trees & Shrubs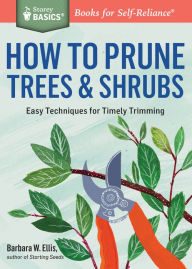 How to Prune Trees & Shrubs: Easy Techniques for Timely Trimming
by Barbara W. Ellis (Storey Publishing, 2016, 124 pp., $8.95)
We've all heard the old adage, "Good things come in small packages," right? And when it comes to how-to books, there is something to be said for getting right to the point and telling us what we need to know.
Storey Publishing understands this and has created their "Storey Basics" line of how-to books so readers can find out exactly what they need to know quickly, and for a reasonable price at that.
This is exactly the case with one of their newest books, How to Prune Trees & Shrubs. Author Barbara Ellis has divided it into two main parts. The first covers pruning techniques and tools and the second gets down to the details of pruning specific plants.
As she explains, "All pruning affects plant growth, whether you are removing a dead branch, or cutting back a shrub. A few basic rules of plant biology govern the effects a pruning session has on growth, and understanding those rules will make you a much more successful, confident and effective pruner."
Even though this is a book on pruning, the author frequently emphasizes that if a gardener is informed about making the right kinds of cuts, trees and shrubs will require less pruning, thus reducing the gardener's workload.
"Every pruning cut affects the future health, growth, and shape of the plant. Do not let this statement scare you away from tackling this essential task altogether. Instead, use it to inspire a sense of serious purpose when you pick up a pair of shears or a saw," she writes.
In part one, Ellis discusses how plants recover from pruning cuts, the anatomy of tree and shrub branches, how the timing of pruning affects plant growth, as well as the different types of pruning cuts and the best methods for doing them. She also reminds us of the most important pruning rule: never remove more than 25 percent of a plant's growth in a year.
She also covers the tools that work best, which includes bypass pruners, ratchet pruners, loppers and pruning saws.
In part two, "Pruning Plant by Plant," Ellis explains that knowing how to prune specific types of trees and shrubs can be tricky. To help with this, she covers the best ways to prune them and, even more importantly, the correct timing for pruning.
First, she talks about tree forms (i.e., single leader and feathered trees) and how to prune them through the first four years of training them. Then she delves into specific trees, listed by their Latin name (but don't worry, the common names are listed in the index) and when and how to prune them. She also covers the pruning of conifers and weeping trees, and shares a lot of details on pruning fruit trees.
Next, she addresses how to prune shrubs based on one's goals of, say, gaining privacy or having an attractive accent plant in the landscape.
As with the tree section, there is a guide to pruning all sorts of shrubs. Forsythias immediately popped into my head since everyone wants to get maximum bloom from them each spring yet many struggle with making pruning cuts. In the shrub guide, Ellis takes the mystery out of when and how to prune them.
She also includes information on how to prune roses based on the type of rose — such as hybrid teas or climbing roses — and a section on pruning vines. Think how puzzling it can be to prune clematis vines at the right time!
At the end of the book, a glossary is included with helpful definitions of both botanical and pruning terms.
How to Prune Trees & Shrubs is a concise, useful guide that is sure to help any gardener learn how to prune the right way and to keep their pruning to a minimum!