Book review: Epic Tomatoes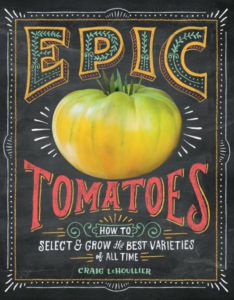 Epic Tomatoes: How to Select & Grow the Best Varieties of All Time
by Craig LeHoullier (Storey Publishing, 2015, 256 pp., $19.95)
Warning: Reading Epic Tomatoes will cause your mouth to water continuously and make you to yearn for warm summer days when you can feast on sun-ripened tomatoes.
If ever there was a queen of the garden, it has to be the tomato. Nearly everyone includes this delightful plant in their garden because we all know you can't beat the taste of a homegrown tomato.
I've been interested in reading Craig LeHoullier's book, Epic Tomatoes, ever since hearing he will be featured in an episode of PBS' popular gardening show, "Growing a Greener World," next year. Show host Joe Lamp'l made multiple visits to LeHoullier's garden this summer and put together an episode that shows the care of tomatoes throughout a growing season.
After reading Epic Tomatoes, I have to tell you I am very impressed with the author's knowledge and great depth of experience. This book covers everything you need to know to be successful at growing tomatoes.
It begins with the history of the tomato, which was much maligned in the early days due to its appearance, smell and taste. That's hard to believe, isn't it? The author goes on to describe early efforts at developing tomato varieties with desirable traits. It turns out that Alexander Livingston Seed Co. figured out how to select for those traits… and the rest is history. It makes for fascinating reading, especially descriptions of the early varieties.
A longtime member of the Seed Savers Exchange, LeHoullier stresses the importance of saving and sharing seeds from heirloom tomatoes, and teaches us the best way to accomplish this later in the book.
He then discusses the various shapes, sizes, colors and uses (i.e., cherry, grape, salad, slicing and canning) of tomatoes. He explains the different seed types — hybrid, open-pollinated and heirloom — as well.
LeHoullier covers the differences in growth habits of cultivars (i.e., indeterminate, determinate and dwarf) and how they will act in the garden. Here's one of his tips: "Because of the way the flowers appear (on determinate varieties), any pruning of this type will significantly reduce yield."
Did you know that determinates tend to be less flavorful than indeterminates? LeHoullier explains this is due to the high ratio of fruit to leaves, which means less photosynthesis can take place.
The third chapter covers helpful planning and planting methods, including how to start plants from seed and hardening-off seedlings — topics of great interest to gardeners everywhere.
He then moves into growing and maintaining plants, focusing on plant spacing, support options, and — perhaps most importantly — and growing tomatoes in containers, which is something LeHoullier is an expert at. He also answers the age-old question of whether one should prune suckers (I won't give away the answer here).
The following chapter is about the best time to pick tomatoes, using flavor, texture, color and perhaps even aroma as a guide. Included are profiles of differently-colored tomatoes and when to pick them, along with how best to store tomatoes (do NOT refrigerate them!).
He shares some of his favorite recipes and, let me tell you, it was torture reading through them at this time of year, when fresh tomatoes aren't even an option! His descriptions of the flavor of various tomatoes made me drool:
"After growing over a thousand different tomatoes over the years, it is still Brandywine that I think of when I ponder the perfect tomato-eating experience. An authentic Brandywine has an unmatched succulent texture that melts in your mouth. The flavor enlivens the taste buds, with all the favorable components of the best tomatoes — tartness, sweetness, fullness, and complexity — in perfect balance."
There's a chapter that takes the reader through the different methods of preserving their tomato harvest (freezing, milling to make sauces, dehydrating, canning and roasting). Then he explains how to save seeds and store them for the longest possible time.
In chapter seven, he discusses three methods to create your own tomato varieties (why not?) and chapter eight is a terrific "Q&A" for tomato-growing. It's a combination of myths, theories and legends on tomato-related topics. This is followed by a troubleshooting guide to damage to foliage or fruit, and issues involving plant growth. He even shares methods they've used to keep deer away from their tomato plants. He rounds out the book with 250 recommended varieties, which really made me want to try something new.
Epic Tomatoes is thoughtfully put together as a complete reference for tomato-lovers and well worth a spot on your book shelf.