Book review: "Late Bloomer"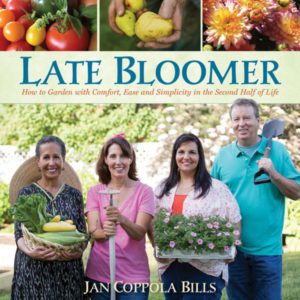 Late Bloomer: How to Garden with Comfort, Ease and Simplicity in the Second Half of Life by Jan Coppola Bills
(St. Lynn's Press, 2016, 143 pages, $18.95)
by Susan Mulvihill
As soon as I saw the title, I knew I had to read this book! And even if you aren't in the second half of your life, Late Bloomer will enhance your enjoyment of your garden immensely.
Late Bloomer is truly hot off the presses, having just been released this week. In it, author Jan Coppola Bills shares her secrets to making smart decisions so you won't feel overwhelmed every time you slip on your garden gloves.
I've been a Master Gardener for 14 years now so the majority of her suggestions are things I know all too well. And yet, I have to admit I've made many mistakes over the years and have created a fairly labor-intensive garden as a result. So you can believe I was taking copious notes while reading this book!
Bills' #1 rule, which is repeated throughout the book is "Right plant, right place." How many times have we heard that? And yet so many gardeners choose plants for their gardens because they appeal on a gut level to them, rather than doing a little research ahead of time. The author explains the most important attributes to look for, such as zone, light and moisture requirements, and mature size.
She strongly believes in gardening sustainably by avoiding the use of pesticides and being willing to share some of her garden bounty with insects and wildlife. She knows the importance of attracting wildlife and pollinators and tells us how to accomplish this. And she advocates not tidying up our gardens or removing fallen leaves since they benefit wildlife and the soil.
Bills promotes the idea of being active and stretching before gardening activities so we can all enjoy our favorite pastime. She also shares several tools that will make tasks easier while keeping us comfortable.
The author explains what hardiness zones are and why they're so important. After all, what's the point of buying a plant that's unsuitable for your zone, including the fact that it might need unnecessary coddling? Those of us who live in colder climates should especially be checking the zone first when plant-shopping.
In her chapter on "Garden Styling," Bills shares important design tips to make our plantings appeal to us. This involves choosing the right types of plants (such as annuals, perennials and evergreens) based on the look we're hoping to achieve. One huge tip was to put plants where their growth habits can be embraced rather than our needing to cut them back frequently to fit the space we gave them. And, of course, we should select bloom colors that appeal us and add garden art to express ourselves.
As I read this book, my mind kept thinking about ways to cut back in my own garden. Several of the author's suggestions might seem like no-brainers, and yet, what do we gardeners do? We landscape in a way that's more labor-intensive and we frequently engage in "zonal denial," thinking certain plants will grow just fine in our colder zones!
I enjoyed Bills' "Small Garden Abundance" chapter where she explained that, with a good design, it's possible to have a small yet fulfilling garden that speaks to you and reflects who you are. She recommends planting beds thickly so they'll shade and out-compete weeds. That said, remember to place plants based on their mature size.
Throughout the book, the author gives examples of the situations some of her clients have and how their garden design solves problems while meeting their goals and desires.
Now, I don't want to give away all of Jan Coppola Bills' secrets, but you will find tips on growing ornamental trees and shrubs, when to water and how to conserve this precious resource, ways to cut down on the amount of work your garden requires, how to keep weeding to a minimum, an easy way to decrease the size of your lawn, and how to grow vegetables and fruits.
In her final chapter, "Perfectly Imperfect," she implores us to stop trying to aim for perfection! Now, wouldn't that make our time in the garden much more enjoyable?
Jan Coppola Bills has an easy-to-read writing style, where you feel like you're sitting across from her at a kitchen table while she's letting you in on her secrets. Late Bloomer is well worth reading no matter what your age. Once you've finished it, I can guarantee you'll be looking at your garden with a critical eye and making a list of the things that will return the joy to your favorite passion!