14 Gifts for Gardeners Under $40

It's hard to believe the holiday season is already upon us, isn't it? If you are into gardening and want to give your family some gift ideas — or if you have a gardener on your shopping list — fear not! I've searched high and low and found 14 awesome gifts for gardeners that won't break the bank. The following items range in price from $8 to $40 and are certain to delight any gardener.
I also wanted to mention that I am not receiving any compensation for listing any of these products in this gift guide.
The first two gift ideas come from the Friends of Manito right here in Spokane, Wash. They have been raising funds for our beloved Manito Park for years and these two items are a great way to commemorate that beautiful space while giving back to the community: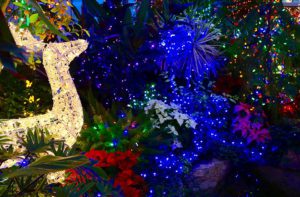 Holiday Lights Cards _ Each December, Manito's Gaiser Conservatory is decorated for the holidays and the locals flock to see and experience the beautiful sights. This year, for the first time, TFM is selling sets of 8 cards with photographs from the Holiday Lights event. They will be available for purchase during the TFM open house on Dec. 10 and 11 from 4:30 to 7:30 p.m. For more information, and to view the photos on the notecards, go to the TFM website. Cost: $8.00. (photo courtesy of The Friends of Manito)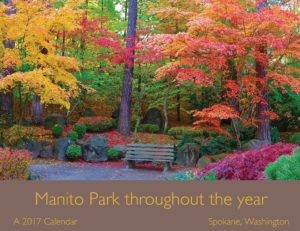 2017 Manito Park Calendars _ Every year, TFM puts out a gorgeous calendar featuring the photographs of their talented plant sale manager, Janis Saiki. They can be purchased at the TFM office in Manito Park, 4 W. 21st Ave. or at Spokane-area Rosauers supermarkets. For more information, and to view the photos in the calendar, go to the TFM website. Cost: $15.00. (photo courtesy of The Friends of Manito)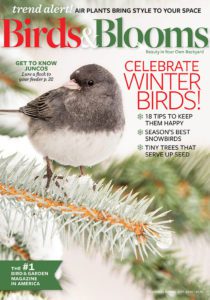 Birds & Blooms Magazine Subscription _ I've discovered that most gardeners tend to be birdwatchers, too. After all, who can resist the charm of the delightful birds that visit our gardens, nibble on insects, and provide us with so much entertainment? A subscription to this enjoyable magazine will be the gift that keeps on giving all year long and yet it's so reasonably priced. Cost: $10/year, $15/2 years. (photo courtesy of Birds & Blooms)
The next two items are from Spokane's awesome garden center, Northwest Seed & Pet: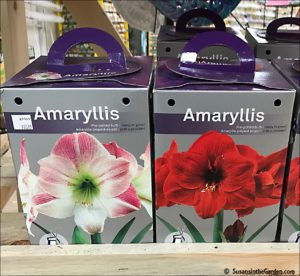 Amaryllis Bulb Kit _ I recently filmed a video on growing Amaryllis bulbs indoors and believe that any gardener would love to get one of these amazing bulbs as a gift. This is a pre-potted Amaryllis bulb so you don't need a pot or potting soil. All you do is put it in an area of your home that gets a decent amount of light and add water to the soil! How easy is that? Cost: $15.99.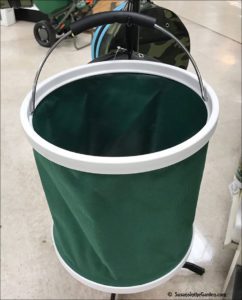 Presto Bucket _ Here's a bucket that stores flat and can be used as a lightweight bucket for collecting weeds or prunings in, picking berries in, or even as a water-tight bucket to hold water. Holding 2.9 gallons, the Presto Bucket is made from heavy-duty nylon that zips shut (see photo below). It comes in several colors. If you don't live in the Spokane area, or if you want to see what it looks like and how it works, you can find it online through many sources. Cost: $19.99.
The next four items are from Gardener's Supply, which is a great place to find all sorts of practical and fun gardening supplies. Aside from their amazing selection, I love their "100% satisfaction" guarantee.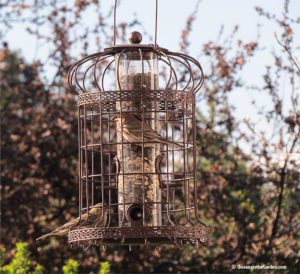 Edwardian Bird Feeder _ While I'm on the subject of birds, many of you probably have seen blog and Facebook posts showing birds on my Edwardian bird feeder from Gardener's Supply. I absolutely LOVE this bird feeder and so do my bird friends! It attracts house finches, goldfinches and chickadees, just to name a few. The bird feeder has been designed to be squirrel-resistant, it's sturdy and easy to refill with seeds. Be sure to check out the review of this feeder that I wrote a few months ago. Cost: $39.95.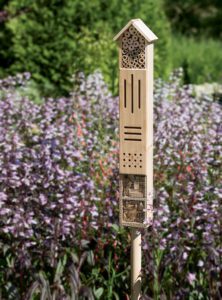 Wooden Insect Hotel with Stake _ It's so important to attract pollinators and beneficial insects to the garden. The pollinators not only give us a world of beauty, but they also increase the productivity of our vegetable and fruit gardens. This Wooden Insect Hotel with Stake will help bring in the pollinators and beneficials while providing an attractive focal point in the garden. Made from a combination of fir, plywood and bamboo, it is mounted on a 30-inch pole for a total height of 61 inches. The insect hotel itself features bamboo tubes for solitary bees, vertical slots for butterflies, horizontal slots for lacewings, and drilled holes to attract ladybugs. What an easy way to dive into attracting these wonderful critters to your garden! Cost: $36.95. (photo courtesy of Gardener's Supply)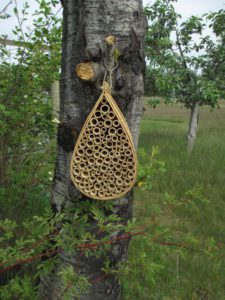 Mason Bee House _ We have this Mason Bee House in our garden and it is VERY popular with solitary bees! Made from bamboo, it's very durable and adds a bit of visual interest to the garden as well. I guarantee you'll be spellbound watching the mason bees coming and going each spring! Cost: $19.95. (Be sure to check out Gardener's Supply's full line of structures that will attract mason bees.)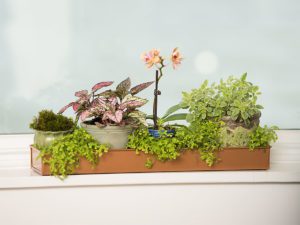 Copper Plant Tray _ Here's an item sure to please the gardener on your list because they can use it indoors or out. This beautiful Copper Plant Tray will provide a lovely accent in their home while giving them an attractive place to put plants. Made from copper, the tray is water-tight. It measures 18″ long x 4″ wide x 2″ high. Cost: $22.95. (Photo courtesy of Gardener's Supply) Gardener's Supply has a full line of copper plant trays in different sizes and styles, so be sure to check those out, too.
The next 5 items are from an assortment of online suppliers: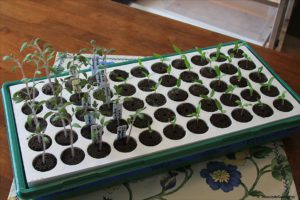 All-Roots Seed-starting  System _ If you or someone on your gift-giving list wants to start their own plants from seed, this is a wonderful system that I've used for years. The All-Roots system is sold by Gardens Alive! and will make a huge difference in one's seed-starting success. The system includes a plastic tray, styrofoam insert that holds the grow plugs (included) and a humidity dome. It's almost like a small hydroponic system and you won't believe the size of the roots on each of your seedlings! Be sure to read my review of the All-Roots system on my blog. Cost: $16.95 for a 10-cell set-up and $34.95 for a 55-cell system.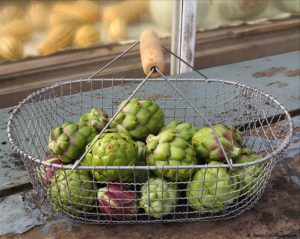 Metal Harvest Basket _ Here is a practical gift any gardener would love. It's the Metal Harvest Basket from Peaceful Valley Farm Supply. I've had mine for at least 10 years and it still looks brand-new! It's perfect for harvesting veggies (or fruits) to carry to the house, although you can also easily hose off your produce while it's in the basket before heading indoors. The wire mesh of the basket is made from galvanized wire which means it won't rust. The wooden carry handle is removable. The basket is 18.5″ long x 10.5″ wide x 6.25″ tall. Cost: $39.99.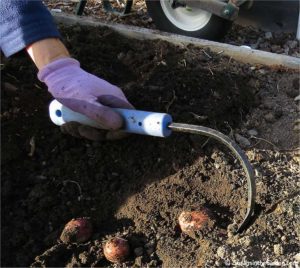 CobraHead Weeder & Cultivator Tool _ I've used a lot of hand tools in my garden over the years but, let me tell you, the CobraHead Weeder & Cultivator has become my go-to hand tool for every garden task I need to do. It's awesome for digging up potatoes in the fall or carefully lifting a plant out of the soil. It's perfect for weeding within a bed or weeding along the edge of a planter or along a line of bricks. The CobraHead has a comfortable handle, is lightweight yet durable, and actually makes some of the more tedious garden chores more enjoyable. I've owned mine for over 2 years and my love affair with it shows no signs of waning! Be sure to read my review of the CobraHead from my blog. Cost: $24.95 (which includes shipping on their website).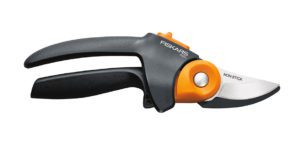 Fiskars PowerGear2 Pruner _ I'm a huge fan of Fiskars because their tools have a lifetime guarantee, which is important to me. But it goes beyond that: their tools are well-designed. A good example is their new PowerGear2 Pruner. I don't know about you but my hand strength isn't what it should be, so when it comes time to do some pruning, it can be a bit of a struggle for me. The PowerGear2 Pruner has a patented gear system that provides up to 3 times more power with every cut you make. The blade is made from steel and the pruners have a contoured design that makes them more comfortable in your hand. Cost: $24.99. (photo courtesy of Fiskars)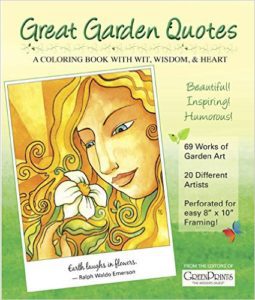 Great Garden Quotes Coloring Book _ Just in case you haven't heard, coloring books for adults are quite the craze these days! Created by the publisher of GreenPrints magazine, Pat Sloan, Great Garden Quotes is billed as "A coloring book with wit, wisdom and heart." It's filled with the beautiful artwork that GreenPrints is known for and certain to bring out the creativity in the recipient of this lovely gift. Pair it with a selection of colored pencils and you've got a winning combination to get them through the long days of winter! Great Garden Quotes is available through online at Greenprints.com, by calling (800) 569-0602, or on Amazon.com. Cost: $14.95.
***
Now, if you're still feeling stumped about what to get the gardener on your list, check out the wide assortment of unique gifts at Gardener's Supply. I always enjoy looking through their catalogs and I'm certain there will be something that speaks to you! Happy holidays!