Oct. 2 column: Fall Banquet, Dan Hinkley

My column in today's edition of The Spokesman-Review is about a fabulous event that takes place later this month: the Spokane County Master Gardener Foundation's fall banquet, with keynote speaker Dan Hinkley. Here is a link to my column: Banquet features talk by globe-trotting plant collector.
I should clarify immediately that this banquet is open to everyone, not just Master Gardeners. And this is an event that you should NOT miss because of the caliber of the keynote speaker.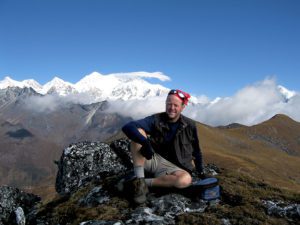 If Hinkley's name doesn't ring a bell immediately (or rings a distant bell!), perhaps Heronswood Nursery will. Heronswood, which is located in Kingston, Wash., was legendary with gardeners far and wide for the high-quality, unusual and hard-to-find plants they carried. (you can learn more about what happened to Heronswood, and its exciting future, in my column)
The banquet will be held on Thursday, Oct. 27. The doors open at 4 p.m., where guests will have the opportunity to meet Hinkley and/or have books signed by him, visit the no-host bar, and check out the silent auction. A tasty catered dinner will be served at 6 p.m., followed by Hinkley's presentation, "The Explorer's Garden: Plants from the Four Corners of the World" at 7 p.m.
You can learn more about Dan Hinkley on his website.
Tickets must be purchased by Oct. 21; for additional information about the event and to purchase tickets, go to the Master Gardener Foundation of Spokane County's website. I hope you can come. It will be an amazing evening!
One last thing: today's column marks my final column for the 2016 garden season. But don't despair: I will continue to share gardening tips and information with you on this website and also on my Facebook page throughout the fall and winter months. There's still plenty to talk about during the "off season" so we will keep each other company!
Note: the above photo of Dan Hinkley is courtesy of Kevin Carrabine.